Investing in Education
IOCC has been working in Haiti since 2010, when a catastrophic 7.1 magnitude earthquake struck the island of Hispaniola about 15 miles from Haiti's capital, Port-au-Prince — affecting an estimated 3 million people. Haiti's infrastructure was unable to withstand the strain, and thousands of buildings were destroyed, among them over 3,900 schools. IOCC responded with emergency aid in Haiti within a week of the quake, in collaboration with the Orthodox Church, ACT members, and other faith-based organizations. IOCC support is now focused on building and rehabilitating Church-run schools.
"If it were not for the school, most of the parents have told me that it would mean an end to their children's formal education," said Fr. Barnabas Jerome. "This is the cause that God has given me. We always have faith and hope that the future will be good. While we have hope, we know that we are still in the darkness. Each day we hope that things will be better."
St. Joseph School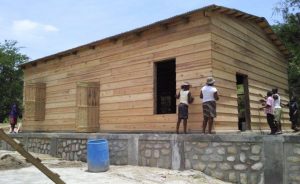 IOCC supported the rebuilding of St. Joseph school in the remote region of Embouchure, Haiti. Badly damaged by the earthquake, the school serves hundreds of children from the surrounding areas. In cooperation with ACT Alliance partner Finn Church Aid, IOCC supported construction of a new earthquake- and hurricane-resistant building that can also serve as a shelter in future emergencies.
Foyer d'Amour School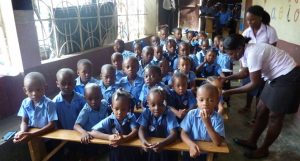 This school in Petionville specializes in serving young children with developmental disabilities— it's one of only five such specialized schools in the country. Run by the Russian Orthodox Church Outside Russia, Foyer d'Amour serves students not only with an education but also with a safe space they don't find elsewhere. IOCC supported the school with equipment and proper sanitary facilities, keeping education available to its students.
St. Jean de Freres Orthodox Elementary School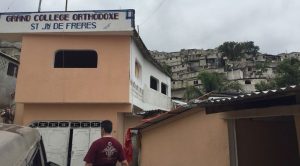 Run by the Greek Orthodox Church, this school serves about 400 students, and most attend free of charge. The school in Petionville, Haiti operates on just $5,000 monthly, keeping education available to the children in the area. IOCC has supported income-generation activities, provided rent assistance while the school remains in a temporary space, and is supporting the construction of a new permanent facility for St. Jean's students.
How Has Your Support Helped Haiti?
Medicine and medical equipment
Wheelchairs, crutches, & walkers
Emergency food and water
Hygiene kits
Tents and shelter materials
Fuel, food, blankets and mattresses
Land recovery, reforestation to combat erosion and landslides
Water purification and sanitation equipment
Reconstruction of schools, including one that serves isolated communities and one for children with developmental disabilities
Your Gifts at Work
"A Gift from God" Provides Hope for Haitians Six Months after Quake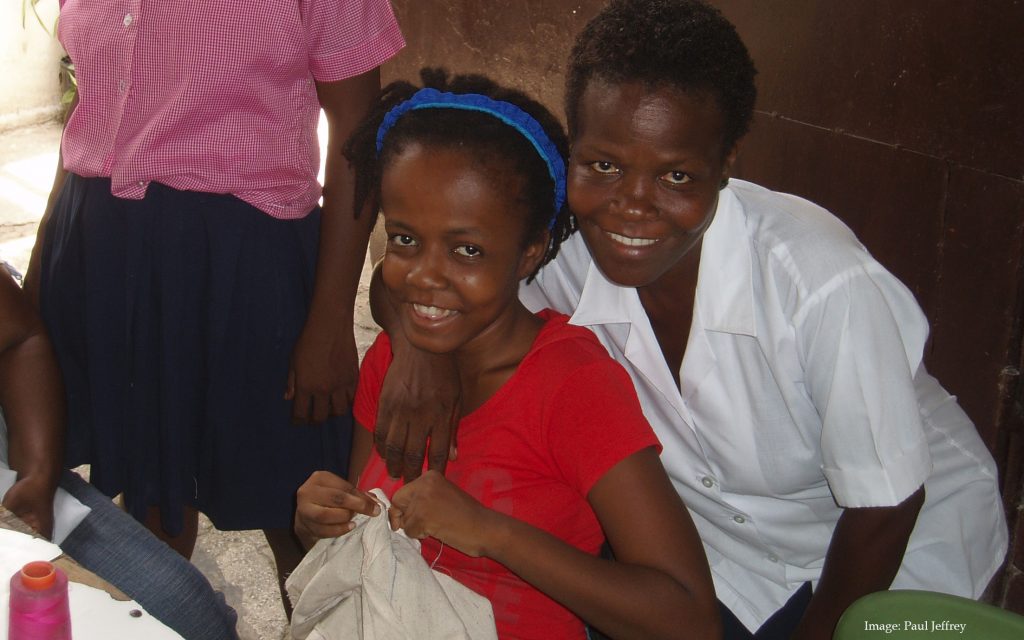 Port-au-Prince, Haiti — Marie and her daughter, Lovely, make a 4-hour, round trip journey each day from their home in the Delmas 10 area of Port-au-Prince to reach Foyer d'Amour ("House of Love"), a school for the developmentally disabled operated by the Orthodox Church that Marie calls, "a gift from God." It is one of only five such schools in a country of 10 million, and International Orthodox Christian Charities (IOCC) is equipping it with everything it needs—from teacher's salaries to basic school supplies—to stay open.
As Haitians pass the six-month mark since the earthquake that devastated their country, such support is crucial for children, allowing them to continue their education and regain some normalcy.
On January 12, when the earthquake struck, Foyer d'Amour's teachers and parents streamed in all night to check on the school. "So many schools had been destroyed, but Foyer d'Amour was special," says Roseline, a teacher who has been with the school for 10 years. "Here we not only teach students skills they need to survive in society, but we provide a safe place that they do not have anywhere else."
The school was severely damaged by the quake, so teachers built a temporary facility across the street. One hundred of the school's 150 students returned when the school reopened in April. The school completely waived the tuition fees and is committed to accepting any student who can benefit from its curriculum.
"My home was destroyed in the earthquake and I live in a tent in my old neighborhood, but Foyer d'Amour gives me motivation and hope," says Rose, a teacher who instructs students in sewing. Students learn other occupational skills like cooking, and they can join a music band that plays for dignitaries and special events.
"We were so afraid that the teachers would leave to find jobs to support their families, and they are so important to the work we do here. We were even afraid the school would have to close," says Matushka Rose May Legouté, the Director of Foyer d'Amour. "We do not know what we would have been able to do without this support from IOCC."
In addition to operating funds, IOCC is providing the school with equipment for its temporary classrooms and installing proper sanitary facilities. Along with Foyer d'Amour, IOCC is also helping two other schools operated by the Orthodox Church in Haiti: Notre Dame des Petits, a school for 300 children that was completely destroyed and is now operating in makeshift wood-and-tarp shelters and St. John Chrysostom, located in a rural village whose population has doubled since the earthquake.
IOCC's overall aid to Haiti recently topped $3 million and includes the delivery of medicines and hospital supplies, water purification and sanitation equipment, wheelchairs and crutches, tents and shelter materials, hygiene kits, fuel, food, blankets and mattresses.
Marie and Lovely continue to make their long journey every day, except now Marie has been hired by Foyer d'Amour. She checks on students who miss school or who need medical attention, and she started a support network for parents. Perhaps she can devote energy to a new job and worry a little less about Lovely, knowing that the school that has so helped her daughter will stay open.
We can only continue this work with your support. Make a generous gift today, so that together we can improve lives around the world.