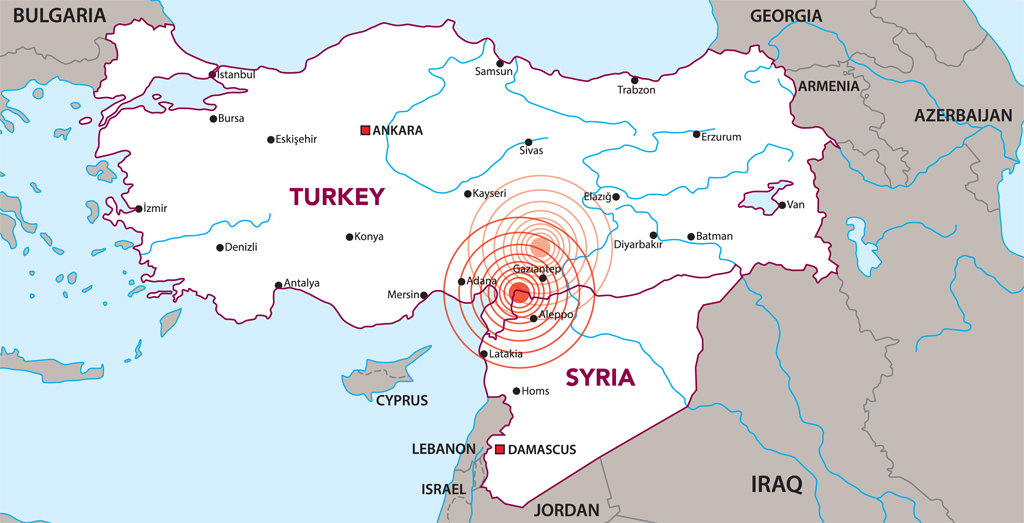 IOCC's work in Turkey began with emergency response following the deadly earthquakes of 2023, which affected millions of people and upended lives and livelihoods. As needs developed, IOCC grew its long-term response and forged new partnerships to serve people in need in Turkey, focusing on activities that can be scaled up over time.
IOCC is working with local parishes both inside and outside the quake-affected areas to provide shelter, food, emergency supplies, and rental assistance to displaced people, especially in Hatay province. Longer term, collaboration with the Church and local authorities will help establish transitional housing villages, offering some stability and safety for displaced people. IOCC is also supporting local Church partners with organizational and training assistance as they build out their capacity to serve.
In the early days of response, IOCC supported an international partner to provide vouchers for food and basics to earthquake survivors. Longer term, IOCC has also funded vouchers for shelter materials, rental assistance, food, and nonfood items such as toiletries and other basics, as well as hot meals, clothing, and bedding.
As response expands, IOCC is providing shelter through "transitional housing villages" for people displaced by the quakes. The prefab houses will include plumbing, electricity, cooling and heating, a bed, and a kitchenette. These houses are safer and more durable than the tents many people initially sheltered in and last for several years.
A New Partnership for Effective Response
To get help as quickly as possible to displaced people in Turkey, IOCC is working with the Danish Refugee Council (DRC), a well-established international humanitarian organization that has been active there since 2013. Rapid response emergency grants from IOCC to DRC supported e-vouchers for food and basic needs items for Syrian refugee and Turkish families affected by the earthquakes.
IOCC is working to scale up its response as earthquake survivors face continued need. Apart from emergency items and shelter support, additional long-term assistance may include mental health care, vocational training, and supporting the rehabilitation of homes and community buildings.