Ethiopia: Independence Renews Ambition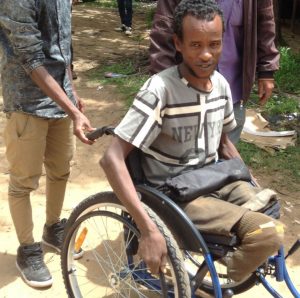 In the small town of Mechara, Ethiopia, 25-year-old Ahmed had built a good life. Responsible and ambitious, he worked on nearby farms, ran errands for neighbors and elderly community members, and lived quietly with his wife.
Illness changed that, however. Ahmed developed gangrene in his legs, and as it worsened, he needed to have one leg amputated. Reflecting the severe stigma often attached to disabilities like this, Ahmed's wife sought a divorce. He eventually lost both legs. Unable to walk, let alone earn a living as he once had, Ahmed found himself living on the streets.
When local social affairs officers referred him to IOCC, Ahmed was extremely discouraged. Through the USAID-funded program, which IOCC implemented with local partner Cheshire Services Ethiopia, trained therapists assessed Ahmed's needs. They fitted him with a specialized wheelchair, adjusting it for optimal use, and taught him how to use and maintain it.
Seated in his new wheelchair—designed specifically for uneven terrain and outdoor, everyday use—Ahmed felt inspired. He can now get around much more easily, and he told staff he wanted to try earning a modest income again, this time through street vending. His ambition rekindled, Ahmed faces the future with fresh hope.