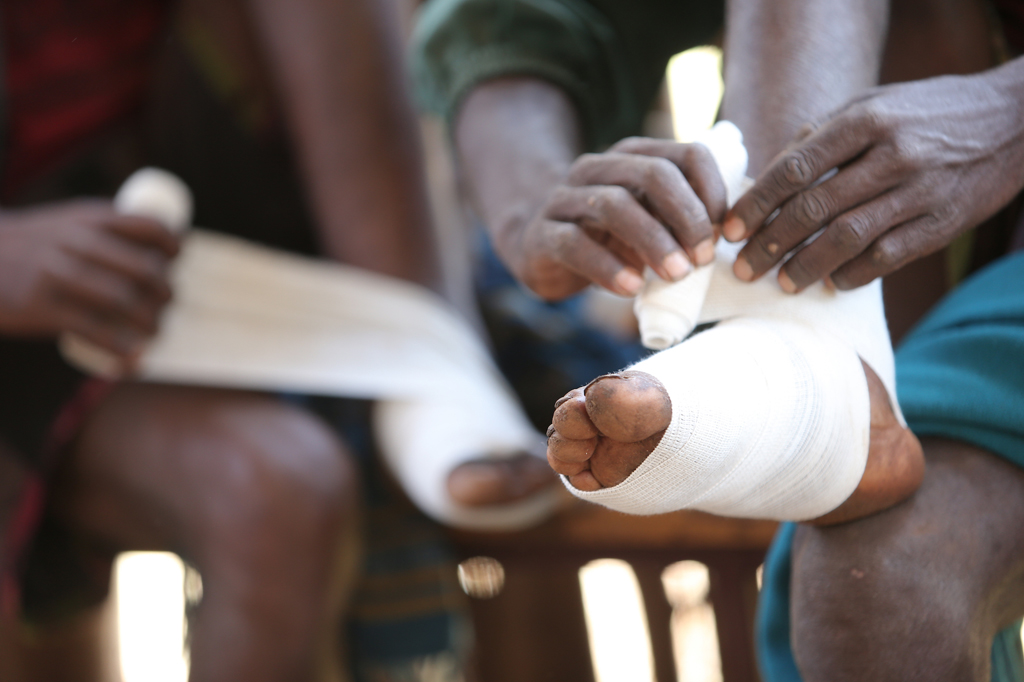 Even as the humanitarian crisis in Ukraine continues and IOCC responds, our emergency and development work around the world is also ongoing.
One long-term project is the fight against the debilitating but neglected disease podoconiosis (podo) in rural Ethiopia. Most recently, IOCC has worked regional health bureaus in two areas where the condition is widespread to prevent podo, teach patients how to better manage it, and prevent disability. IOCC focuses on education, equipping key players like community leaders to share what they've learned with their peers, neighbors, and friends. This cultivates local ownership and helps spread awareness organically—creating a ripple effect of positive change.
Asenak, 34, is a wife and mother of four who developed podo at age 17. She tried various treatments, but nothing helped, and eventually both her legs were affected. Apart from the painful swelling, acute attacks of pain left her unable to care for her home and family or spend time with loved ones.
"I was really delighted when the health extension worker in my area told me about treatment that was available," Asenak said. She enrolled in treatment facilitated by an IOCC-trained nurse and received health education on podo's prevention and treatment. Since then, her condition has improved dramatically, and she's back to a more productive and active role in her community. What's more, she's sharing what she learned.
With a bit of knowledge and the right kind of support, Asenak has made changes that improved her health and quality of life, and she's helping others learn how they can do the same.