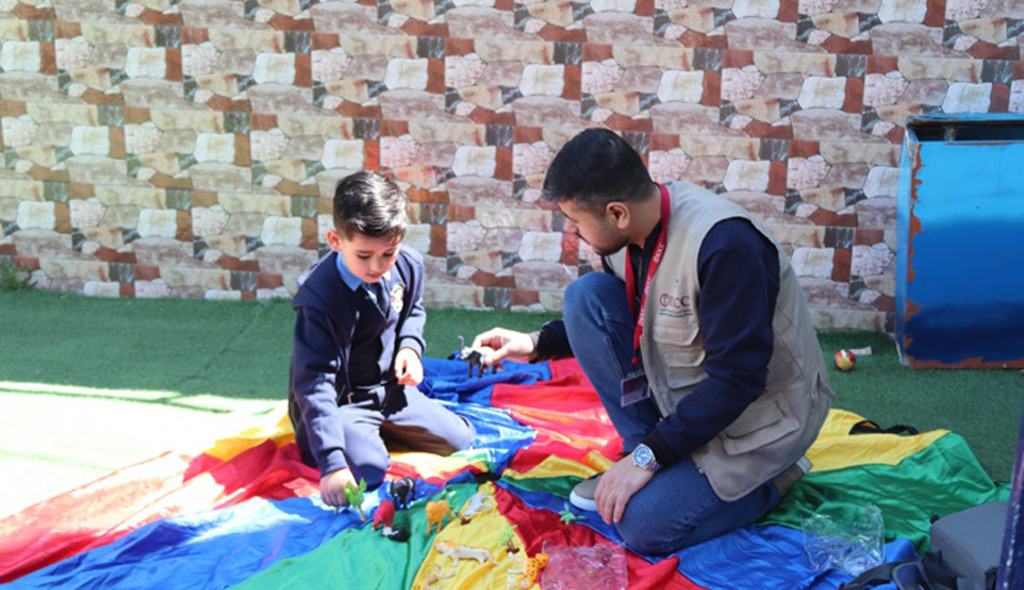 "My son is more relaxed now and deals better with others," said the mother of Zain, a preschooler in Gaza—where uncertainty and conflict are part of daily life.
The oldest child in his family, Zain had become nervous and hostile, easily losing control, after extended family moved in with him and his parents. "Zain jumps on sofas all the time and attacks his friends," his mother said when she first came to IOCC. His parents were unsure how to help him.
Through IOCC's emergency psychosocial support program for preschoolers, funded by Peace Winds Japan with support from the Japan Platform, Zain received both group and individual help to address his negative behavior. He practiced identifying and expressing emotions, and play therapy provided a safe environment where IOCC helped Zain relax through stories and music activities.
Zain's mother also received individual support, along with education about her child's psychological needs, positive parenting methods, and ways she can support her boy. She described her stress during special emotional support and debriefing sessions, and she learned to practice healthy debriefing.
The results have been remarkable. "Everywhere he goes," said Zain's mother, "he talks about the activities … and many of our family members have noticed an improvement in his behavior."
Zain told staff he'd like to become an engineer in the future, to construct beautiful houses for his neighborhood, and to live in a safe and peaceful home. Through this program focused on psychosocial support, IOCC has helped hundreds of youngsters like Zain, laying the foundation for a productive, hopeful future.