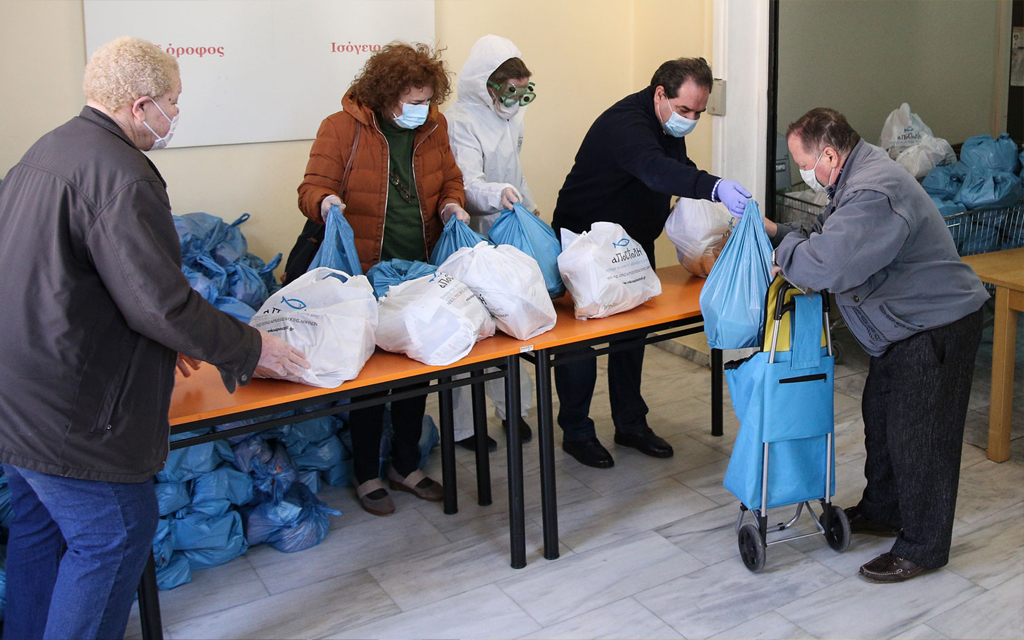 As part of measures to protect residents amid the COVID-19 pandemic, Greek authorities closed humanitarian kitchens across the country in March. Supporting a large Athens kitchen serving hot meals has been part of Give for Greece for several years, so this change meant a quick pivot for IOCC and partner Apostoli, the humanitarian arm of the Archdiocese of Athens.
When the Athens authorities requested a weekly canned-food distribution for those registered as homeless across the municipality, IOCC and Apostoli organized the new programming. Eight weekly distributions were arranged, each providing multiple meals in one package so recipients don't need to stand in line daily, as they would at a humanitarian kitchen. Each packet includes juices and snack items for seven days, as well as bananas, canned tuna, meatballs, tomato sauce, and more.
Staffers distributing the food in downtown Athens are wearing face masks and gloves, and the number of people entering the building is limited so everyone can maintain safe physical distances. This initiative is just one way IOCC and its partners are continuing to serve, even as everyone adjusts to stay safe and healthy.