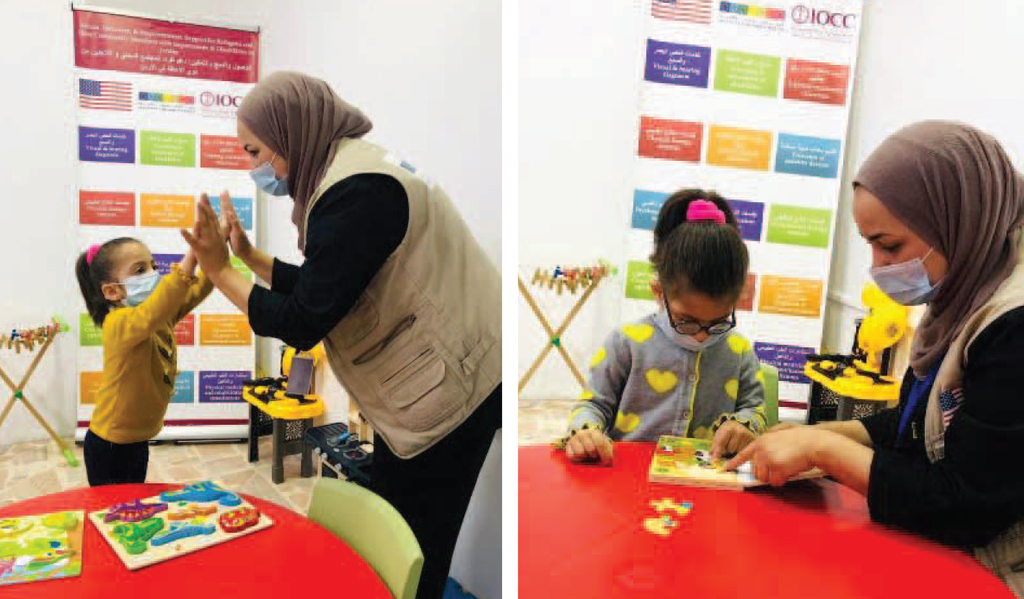 Five-year-old twins Mawaddah and Rahma were born prematurely to Syrian refugee parents in Jordan. Early complications eventually led to health problems starting at about age one: Mawaddah had trouble seeing, even with glasses, and was frightened of new people, while Rahma was hyperactive and her speech was delayed.
Mawaddah, Rahma, and their mother all received support through IOCC and local partner the Institute for Family Health, with support from the US State Department's Bureau of Population, Refugees, and Migration. Occupational therapy and special education for the girls, plus psychosocial support for their mother, have led to significant improvements for everyone. The girls are now more independent, and Mawaddah is on a waitlist for consultation with an ophthalmologist (and surgery, if needed).
In Jordan, IOCC does a lot of work to make sure people in need—both Jordanians and refugees—get specialized support, especially when it comes to disabilities and impairments. Diagnosis, treatment, devices like glasses and hearing aids, and so much more, are all part of this program, which has helped thousands of people get the support they need to live full, productive lives.