Lebanon: A Shot at Better Health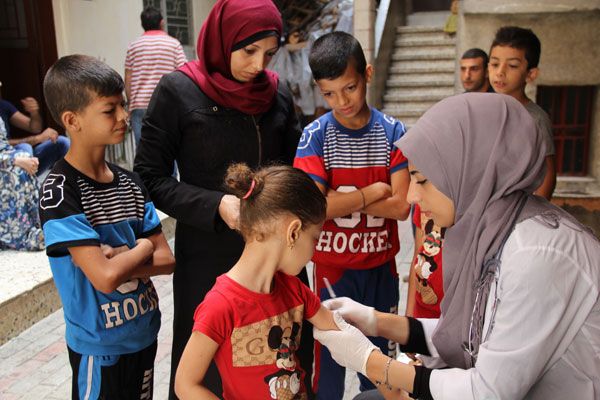 IOCC, with support from UNICEF, is conducting accelerated immunization activities throughout Lebanon, especially among underserved communities. The Lebanese Ministry of Health and UNICEF have identified Chehime, in Mount Lebanon, as a region at risk for measles outbreaks because so many children there have not been fully vaccinated. IOCC's campaigns are protecting children age 15 and younger by providing not only measles vaccinations but also shots for rubella, polio, and mumps.
Hiba has four children ages 4 to 10. She was among the Syrian refugee mothers who brought her children, two boys and two girls, to IOCC's mobile medical units in Chehime to get vaccinated at no charge. Her husband was injured in an accident and now lives with a disability, and the family's income is extremely limited. Because of IOCC's service, Hiba does not need to purchase these vaccinations at a healthcare center, and she won't have to worry anymore that her kids are susceptible to measles and polio.
IOCC's immunization campaign aims to reach over 52,000 children through either mobile medical units or referrals to healthcare centers in Mount Lebanon and the Bekaa, helping control risk and prevent outbreaks of dangerous childhood diseases.