Seeing Long-Term Impact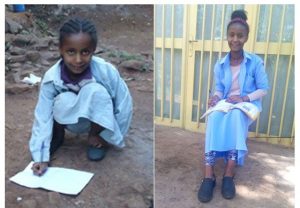 IOCC met Samirawit in 2013, when she was 10 and living with her grandmother in Debre Markos. She received her first pair of shoes through an IOCC project to raise awareness about and prevent podoconiosis (podo for short), a tropical disease that causes debilitating, painful swelling of the feet.
Samirawit was excited to have the brand new shoes and could hardly believe it. "I was very pleased," she told staff, "and at first I thought it was a dream.… I would wake up at night and check if it was." She quickly got in the habit of wearing shoes, which is the surest way to prevent podo. Her teacher even said that having shoes seemed to motivate Samirawit more at school.
IOCC staff recently saw Samirawit again on a follow-up visit. The girl, now 15, still wears shoes every day. She remembered that first pair and how her feet grew softer the longer she wore them. When she outgrew them, her grandmother bought her another pair, as they'd both seen the advantages of wearing shoes and keeping their feet clean. Samirawit is healthy and at a school participates in extra-curricular activities focused on peace and humanitarian work.