US: Growing the Orthodox Disaster-Response Network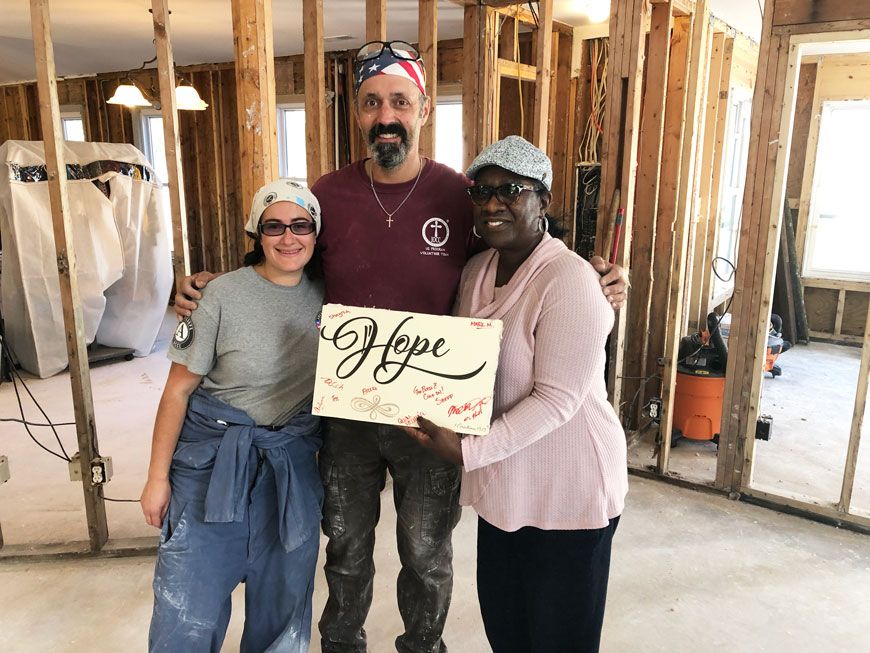 IOCC volunteer Mark McGilvery spotted "Hope" in the debris pile—stenciled onto a large part of a wall that had been removed from a flooded home in Wilmington, NC. Mark salvaged the message, cutting it out of the drywall, and the muck-out team signed it for homeowners Tammie and AJ. Pictured above are AmeriCorps volunteer Shayna Koren, IOCC volunteer Sheff Priest, and homeowner Tammie—sharing an uplifting message for a difficult moment.
Recent years have seen the expansion of IOCC's disaster response in the United States. For example, Hurricane Harvey in 2017 marked the largest deployment yet of IOCC Frontliners, who offer emotional and spiritual care to people who've survived large-scale disasters. That important work continued this year following Hurricanes Florence in Wilmington, NC, and Michael in Panama City, FL, as well as after the tragic shootings in Parkland, FL, and Santa Fe, TX—among other events.
IOCC's Orthodox Action Teams have grown in number and reach, thanks to dedicated volunteers across the country. Team leaders have trained and deployed, and our network of partner organizations is growing. Home repairs to hurricane-damaged houses continue around Houston and Florida, and right now IOCC teams have just returned from clearing damaged homes in Wilmington, NC, where they've been since just a few days after Florence hit, and are heading to Florida to remove debris and clear homes damaged by Hurricane Michael.
In addition, 2018 has seen the initiation and cultivation of IOCC's Orthodox Homefront, a program that helps Orthodox parishes prepare for disasters and be part of response activities in times of need. The Homefront offers a framework to prepare for a range of hazards, based on the community's resources, helping the parish develop a disaster response plan.
Together, these initiatives—and the people who make them reality—are strengthening the Church's response to human needs in times of crisis.