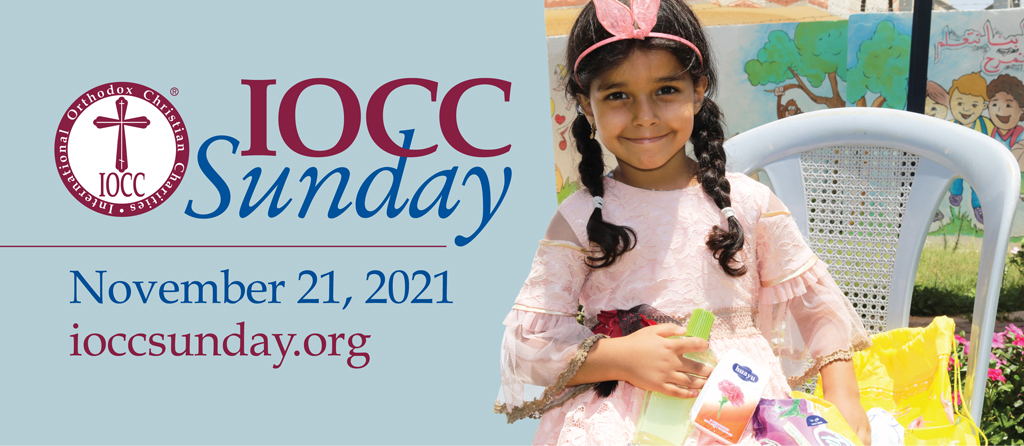 Annual IOCC Sunday
Celebrates Mission of Service
Orthodox Parishes across US Join Common Cause of Humanitarian Aid
Baltimore, Md. (November 16, 2021) — In what is now a long-standing tradition, International Orthodox Christian Charities (IOCC), together with clergy, volunteers, and supporters across the United States, will mark IOCC Sunday on November 21, the Sunday before Thanksgiving.
Inspired by Christ's call in Matthew 25 to serve Him by meeting the practical needs of others, IOCC's mission answers this timeless call to action. While needs may change, some caused by sudden crisis and others by drawn-out hardship, the goal of service remains. It is all the more powerful amid the long-term effects of a global pandemic — and the human needs it has created or deepened.
IOCC Sunday was designated by the Assembly of Canonical Orthodox Bishops of the United States of America to lift up the global humanitarian and development work of IOCC, which is an agency of the Assembly. This dedicated day of prayer, learning, and giving offers parishes a way to highlight Orthodox philanthropy and service each year and to partner with IOCC in this work. The close connection to the US feast of Thanksgiving underscores the Gospel's emphasis on sharing God's gifts with others.
As it has for nearly 30 years, IOCC's focus on putting the Orthodox faith into action offers Orthodox Christians across the US a way to respond to Christ's call to care for those in need.
In honor of IOCC Sunday, His Eminence Metropolitan Nicolae of the Romanian Orthodox Metropolia of the Americas, IOCC's liaison in the Assembly of Bishops, has once again prepared an IOCC Sunday encyclical addressed to the clergy brotherhood that may be shared with parishioners.
This encyclical, along with additional resources for the day, have been mailed to parishes. These may also be downloaded at ioccsunday.org, along with printable bulletin inserts, a promotional poster, and a Thanksgiving prayer for those in need.
To support IOCC Sunday, please contact IOCC online (ioccsunday.org) or by phone (877.803.4622). Please also pray for the agency, its staff, and people in need across the globe.
###
International Orthodox Christian Charities (IOCC) is the humanitarian relief and development agency of the Assembly of Canonical Bishops of the United States of America. Since its inception in 1992, IOCC has provided more than $742 million in humanitarian relief and sustainable development programs in over 60 countries worldwide. Today, IOCC applies its expertise in humanitarian response to natural and manmade crises in Africa, Europe, the Middle East, and the United States, offering assistance based solely on need. Learn more at iocc.org and follow @IOCCRelief on Twitter, Instagram, and Facebook.