International Orthodox Christian Charities Announces $135K Campaign for Ethiopia
Humanitarian Agency to Extend Fight against Tropical Disease, Expand Health Services in Rural Areas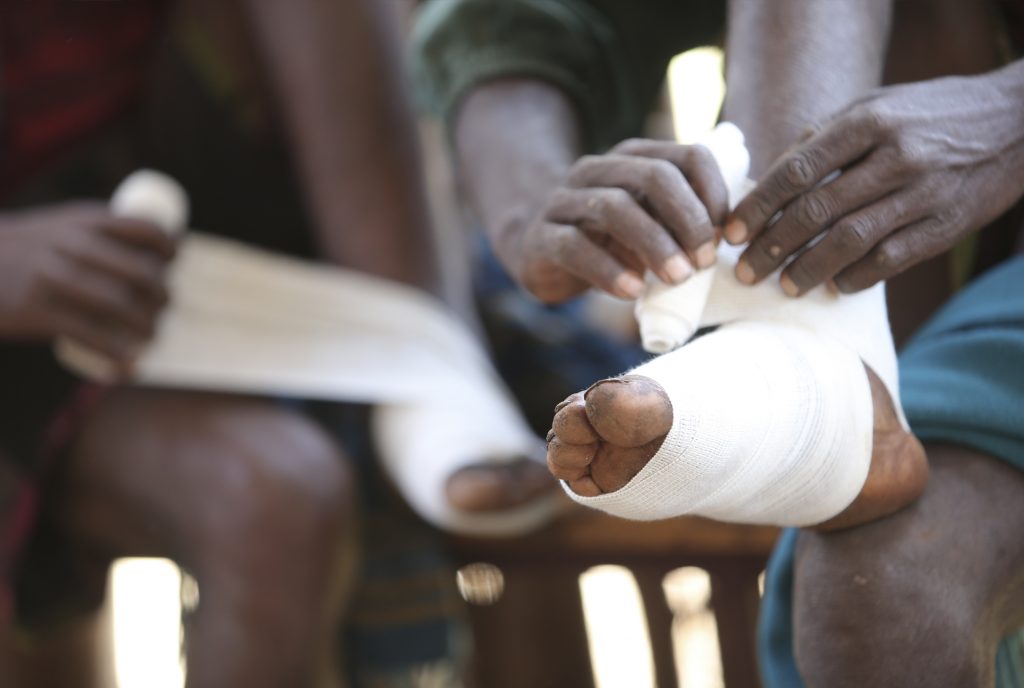 Baltimore, Md. (June 4, 2019) – International Orthodox Christian Charities (IOCC) has announced a fundraising push for ongoing work in Ethiopia, aiming to raise $135,000 to continue combatting the tropical disease podoconiosis and to expand health services in underserved, isolated areas of the country.
Since 2010, IOCC has worked to alleviate podoconiosis in Ethiopia. Parallel strategies of community-based initiatives and training for health professionals have now reached over 50,000 patients and 1,000 healthcare workers. IOCC's podoconiosis work, which includes partnerships with the Amhara Regional Health Bureau, Footwork, the National Podoconiosis Action Network, the University of Sussex, and others, has helped reduce social stigma, taught patients self-care, and trained local healthcare workers in the disease's prevention and treatment.
Podoconiosis, or nonfilarial elephantiasis, is a painful swelling of lower legs and feet caused when bare feet are exposed continuously to certain volcanic soils. Patients also experience periodic debilitating episodes that leave them unable to work. Podoconiosis is not contagious, but it is highly stigmatized. It predominantly affects rural farming communities where wearing shoes is not the cultural norm, and where loss of income can be devastating to families.
"In Ethiopia, podoconiosis has made it impossible for so many to earn a living or enjoy life's simple pleasures," said Constantine Triantafilou, IOCC's Executive Director and CEO. "I can still see the smile of a priest and his son as the boy was about to kick a soccer ball again after treatment." Triantafilou concluded, "This is truly high-impact work."
Extensive work addressing health needs is part of IOCC's history in Ethiopia, where IOCC began working in 2003, partnering with the Ethiopian Orthodox Church Development and Inter-church Aid Commission (EOC-DICAC). From 2004 to 2013, IOCC reached over 12 million Ethiopian men and women with HIV/AIDS prevention and awareness messages. Mobilizing communities through EOC-DICAC, that long-term $15 million project also screened 22,000 pregnant mothers and 12,000 male partners for HIV.
To support IOCC's work in Ethiopia with a financial gift, please contact IOCC online (iocc.org/ethiopiagifts) or by phone (877.803.4622).
# # #
International Orthodox Christian Charities (IOCC) is the humanitarian and development agency of the Assembly of Canonical Bishops of the United States of America. Since its inception in 1992, IOCC has provided more than $692 million in humanitarian relief and sustainable development programs in over 60 countries worldwide. Today, IOCC applies its expertise in humanitarian response to human-caused and natural crises in Europe, Africa, the Middle East, and the United States, offering assistance based solely on need. Learn more at iocc.org and follow us @IOCCRelief on Twitter, Instagram, and Facebook.