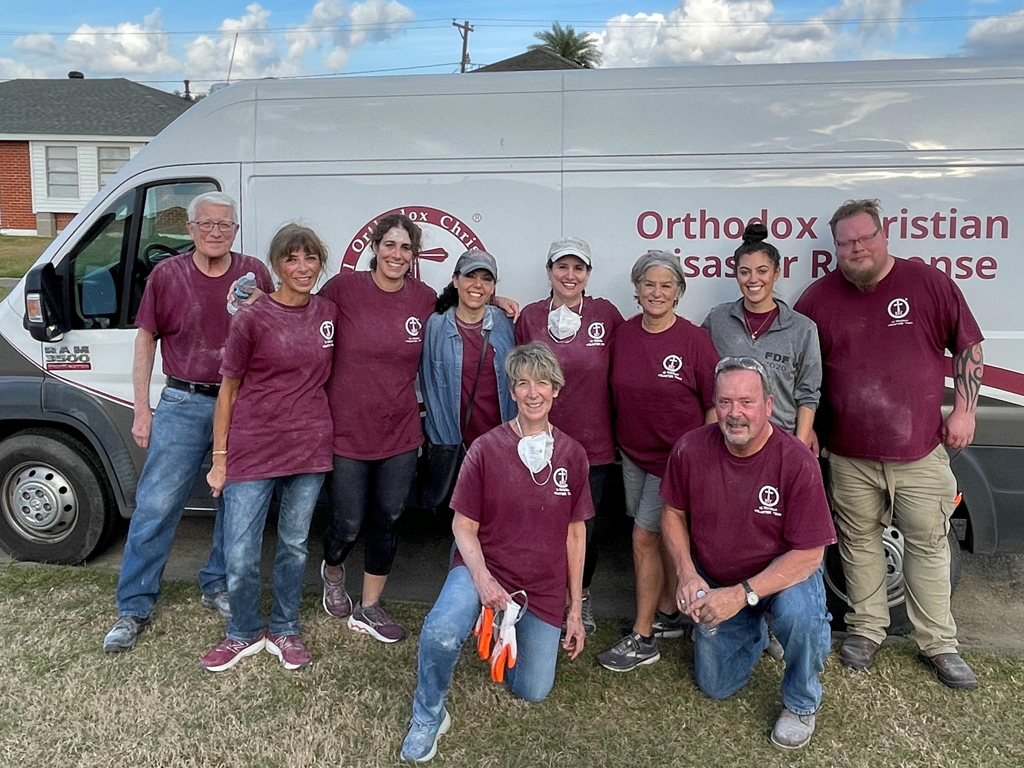 For Lent, IOCC Announces Service Opportunities
US Volunteer Program Offers Chance to Put Faith in Action
Baltimore, Md. (February 28, 2023) – In time for Great Lent, International Orthodox Christian Charities (IOCC) announced a new, long-term, opportunity for volunteers to get their hands dirty helping people affected by disasters in the United States.
This year, with funding from United Way and in partnership with NECHAMA Jewish Response to Disaster, IOCC is addressing outstanding needs in Louisiana (Hurricane Ida recovery). Likewise, through a grant from the American Red Cross, IOCC is working with partner Inspiritus in Kentucky and Tennessee (tornado recovery).
IOCC's Action Teams are deploying on a rolling basis throughout all of 2023, serving people in need whose homes were badly damaged or destroyed by these disasters. From initial cleanup and muckout work to eventually repairing and rebuilding homes, IOCC volunteer teams are guided by staff and trained leaders in the field. No special skills are required to volunteer, with training and supervision provided on site.
"Volunteering with an IOCC Action Team is a great way to put your faith into action in a tangible, practical way," said Deacon Paul Zaharas, IOCC's US Country Representative and head of the program. "During Great Lent when we focus more intently on our spiritual journey through increased prayer, study, and almsgiving, we also have an opportunity to strengthen our life in Christ through service to others. We give our time and energy, and at the end of the day we're serving Him by taking care of our neighbors who are in need."
The program is flexible and customizable. Volunteers are invited to join teams as groups or individuals, and to come for a day or a full week. Accommodation is provided for out-of-towners. Details are available at iocc.org/actionteam or by contacting US program staff by phone (667.331.9812) or email (volunteercoordinator@iocc.org).
IOCC's US program was established in 2001 following the attacks of September 11. With a focus on disaster preparedness and response, it offers volunteers a chance to get directly involved in serving survivors of hurricanes, tornadoes, floods, and other destructive events in the US.
###
International Orthodox Christian Charities (IOCC) is the humanitarian relief and development agency of the Assembly of Canonical Bishops of the United States of America. Since its inception in 1992, IOCC has provided more than $771 million in humanitarian relief and sustainable development programs in over 60 countries worldwide. Today, IOCC applies its expertise in humanitarian response to natural and human-caused crises in Africa, Europe, the Middle East, and the United States, offering assistance based solely on need. Learn more at iocc.org and follow us @IOCCRelief on Twitter, Instagram, and Facebook.