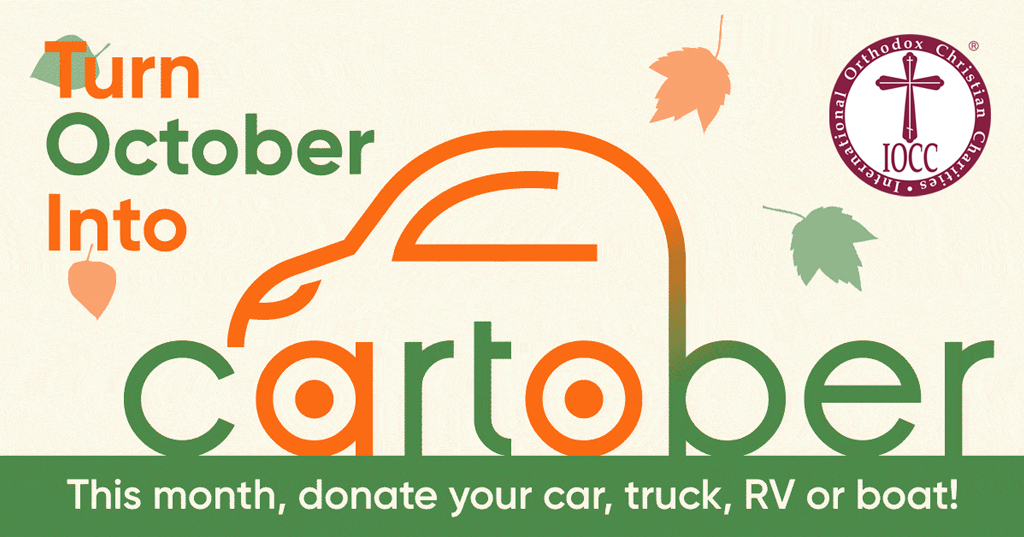 International Orthodox Christian Charities Encourages Vehicle Donations This "Cartober"
High Demand for Used Cars Increases Donor Impact
Baltimore, Md. (October 15, 2021) — International Orthodox Christian Charities (IOCC) is promoting its vehicle donation program throughout October in a national awareness campaign dubbed "Cartober" by participating nonprofit organizations.
Through a partnership with CARS (Charitable Adult Rides and Services), IOCC accepts donations of unwanted cars, trucks, RVs, boats, and other vehicles. Supporters initiate their tax-deductible gifts online or by phone, and CARS arranges the free pickup and sale of vehicles. Proceeds result in a financial gift to IOCC from the vehicle's donor.
With used cars in especially high demand at the moment, sales through this vehicle donation program are generating increased revenue. This means that donors are having an even greater impact, making Cartober an ideal time for a gift of this kind.
"There's never been a better moment to donate a used car or truck to IOCC," said Director of Development and Communications Katrina Straker. "Our donors receive step by step support as they make this gift, and the best part is that, ultimately, your old vehicle will help a people in need through IOCC's work."
Vehicle donations have the potential to generate hundreds and sometimes thousands of dollars for their designated charities. IOCC's partnership with CARS aims to make the process as simple as possible for donors. Pickup is free, and all the necessary paperwork is provided to record the tax-deductible gift.
To learn more or donate a vehicle today, call 855.550.GIVE, or visit iocc.org/cars.
###
International Orthodox Christian Charities (IOCC) is the humanitarian and development agency of the Assembly of Canonical Bishops of the United States of America. Since its inception in 1992, IOCC has provided more than $742 million in humanitarian relief and sustainable development programs in over 60 countries worldwide. Today, IOCC applies its expertise in humanitarian response to natural and manmade crises in Africa, Europe, the Middle East, and the United States, offering assistance based solely on need. Learn more at iocc.org and follow @IOCCRelief on Twitter, Instagram, and Facebook.