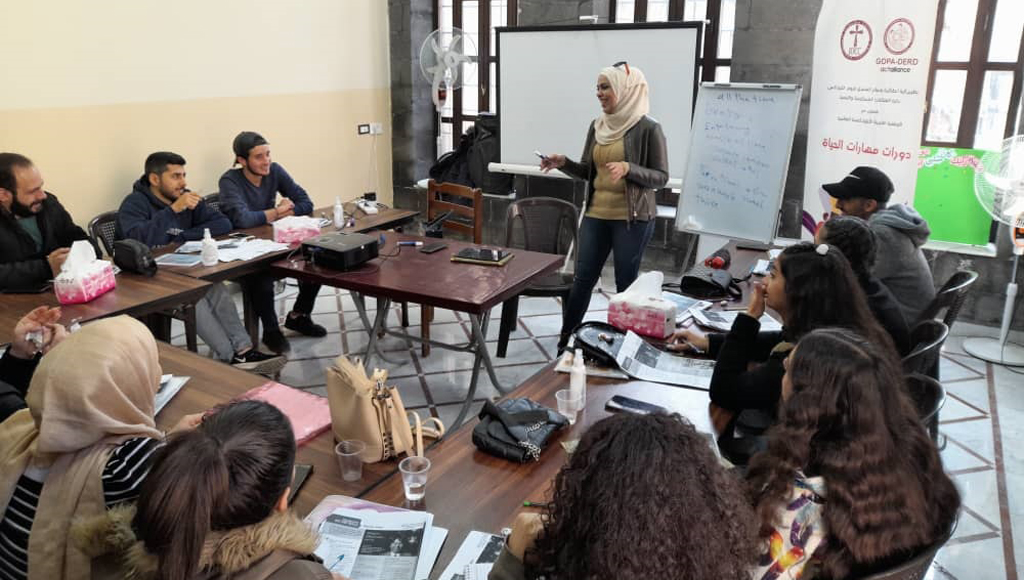 IOCC Receives $60,000 Lead Gift from Orthodox Vision Foundation for Syria Program
Funding to Spur Donations, Expand Education Program for Women, Young Adults amid Economic Crisis, Earthquake Recovery
Baltimore, Md. (May 1, 2023) – International Orthodox Christian Charities (IOCC) has received a $60,000 lead gift from the Orthodox Vision Foundation toward a $200,000 campaign supporting IOCC's vocational education program in Damascus for women and young adults. The grant aims to expand programming, allowing more people to improve their employment prospects as Syria faces a deep economic crisis and continuing conflict, as well as the long-term impacts of the February 2023 earthquakes.
IOCC co-founder Charles Ajalat, co-trustee of the Orthodox Vision Foundation along with his wife, Marilee, initiated the foundation's gift to IOCC. The goal is to build support for this impactful IOCC initiative in Syria by encouraging other donors to donate to the agency's Syria program, raising at least $200,000.
The Orthodox Vision Foundation gift bolsters a popular IOCC program begun in July 2022 with support from the IOCC Foundation (ioccfoundation.org) and in cooperation with IOCC's Orthodox Church partner in Syria, the Greek Orthodox Patriarchate of Antioch and All the East's Department of Ecumenical Relations and Development. Through courses in English language, finance, online marketing, various specialized software programs, and more, the program equips its students with skills they need to enter the labor market, find decent livelihood opportunities, and improve their quality of life. The additional funding covers program expenses through half of 2023, while gifts toward the campaign will extend the program further.
After more than a decade of conflict, Syria faces a complex economic crisis that has left millions unemployed and impoverished. Women-headed households and young adults have been especially hard hit, and these two groups often have difficulty obtaining work—even before destructive earthquakes upended tens of thousands of lives and livelihoods. Yet conflict has transformed many women's roles in the workforce, opening new opportunities previously reserved for men. With vocational and life-skills training, women and young adults, including people affected by the February earthquakes, can take advantage of those emerging opportunities and enter the labor market.
IOCC's program is designed to fit this niche, with some 325 women and young adults enrolled in the first round of courses. Additional eligible students have been selected for a waitlist. The funding from the Orthodox Vision Foundation means that those waiting can soon enroll and begin acquiring skills that will help them support their families and forge a brighter future.
"The Orthodox Vision Foundation's mission is to help people transform their lives," said Mr. Ajalat. "In Syria, where the effects of this conflict have been forgotten in the media, and people are still reeling from the earthquakes, transformation is certainly needed in the lives of women and young people. The OVF is pleased to work with IOCC to make this vision a reality."
IOCC Executive Director and CEO Constantine Triantafilou added, "IOCC is grateful to Charles and Marilee for their decades of service and support of IOCC. Through this latest partnership, we can help young people and women in Syria build for their futures. IOCC's response to this conflict has always focused on tailoring assistance to shifting needs. Now, growing this program means that we can meet the demand for the training, and more people will be able reach their goals of stable incomes and better lives. Support like this is all the more important now, after the quakes' devastation."
IOCC has worked in Syria since 2002. Since conflict began in 2011, IOCC has addressed the urgent and emergency needs of Syrians and Iraqi refugees by providing relief supplies, clean water and access to sanitation, medical equipment and supplies, and shelter—in addition to livelihoods initiatives and education and psychosocial support. All aid is provided based solely on need. Support IOCC's work in Syria at iocc.org/ovfsyria.
###
International Orthodox Christian Charities (IOCC) is the humanitarian relief and development agency of the Assembly of Canonical Bishops of the United States of America. Since its inception in 1992, IOCC has provided more than $771 million in humanitarian relief and sustainable development programs in over 60 countries worldwide. Today, IOCC applies its expertise in humanitarian response to natural and human-caused crises in Africa, Europe, the Middle East, and the United States, offering assistance based solely on need. Learn more at iocc.org and follow us @IOCCRelief on Twitter, Instagram, and Facebook.