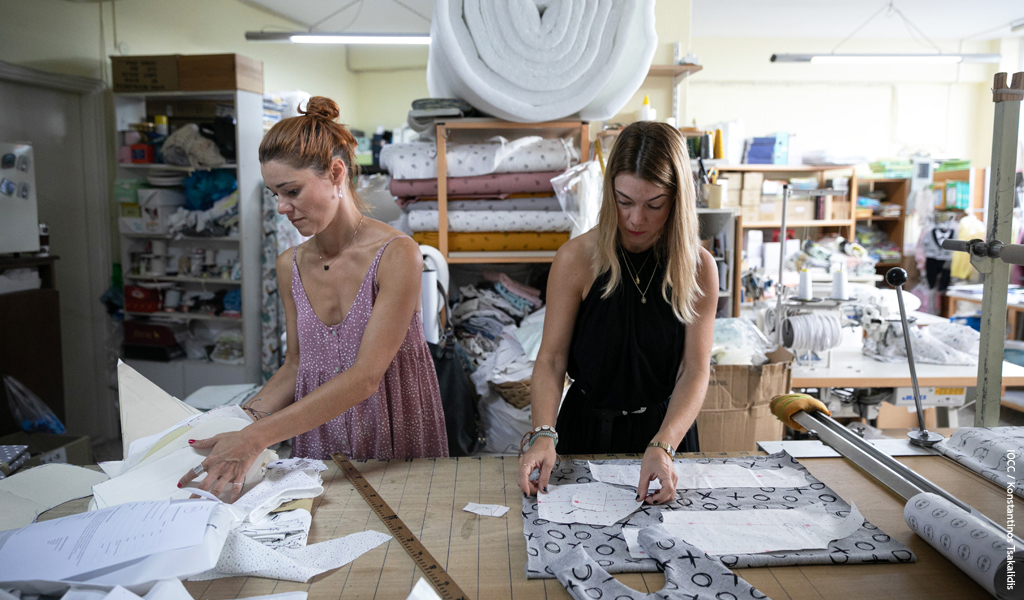 John G. Rangos Charitable Foundation Greece Matching Challenge Inspires Donors
IOCC Co-Founder's $100,000 Gift Builds Momentum for Humanitarian Work in Greece
Baltimore, Md. (June 11, 2021) — Midway through its month-long campaign to meet the $100,000 matching challenge set by the John G. Rangos Sr. Charitable Foundation, International Orthodox Christian Charities (IOCC) today announced additional gifts from donors across the United States, including a generous contribution from Duquesne University in Pittsburgh, Pennsylvania.
IOCC co-founder Mr. John G. Rangos Sr. initiated the foundation's gift to IOCC, launching the challenge on May 20, 2021. The goal is to catalyze support for IOCC's humanitarian initiatives in Greece by matching all donations to the agency's Greece program, dollar for dollar, up to another $100,000.
Private donors large and small have responded as the campaign builds momentum, with Duquesne University now among major contributors.
"I'm delighted that two organizations I love have the opportunity to do great things together," said Mr. Rangos. "It's my honor to help connect Duquesne and IOCC through this campaign, which will help so many people in Greece, and I am deeply grateful to the university for its generous support. I know I am not alone in my conviction that we who are blessed must help meet the most pressing needs our fellow human beings face. Greece holds a special place in so many hearts, and I hope that Duquesne University's gift will inspire even more people to create a lasting impact there through IOCC."
Over the years, through his charitable foundation Mr. Rangos has given over $3 million in monetary and in-kind support to IOCC's global work. Also a staunch long-time benefactor of Duquesne University, Mr. Rangos facilitated the connection of the two entities for philanthropic purposes.
"The university is honored to support Mr. Rangos's challenge grant, out of admiration and recognition of him as one of the truly great visionary philanthropists of our time," said Duquesne University President Ken Gormley. "His generosity enabled the growth of the Health Sciences School at Duquesne that bears his name, as well as many other initiatives that have helped students and the people they serve through their educational achievements. We wanted to make this special gift to honor John Rangos as he celebrates his 92nd birthday in July and because we share with him a deep commitment to helping and uplifting those who are disadvantaged, suffering, or in need of compassion as they face challenges."
The university's gift moves IOCC closer to meeting the challenge of raising $100,000 set by Mr. Rangos, but the campaign continues as the June 20 deadline approaches. Funds are vital to continuing aid in Greece, where IOCC partners with Apostoli, the humanitarian arm of the Archdiocese of Athens, to serve people in need. Greece is still coping with the repercussions of its decade-long economic recession, only made worse in the last year by the pandemic. Food aid for families, training and equipment for small businesses, medical supplies for public hospitals, and assistance for refugees are only some of IOCC's current Greece initiatives.
IOCC, the humanitarian and development agency of the Assembly of Canonical Orthodox Bishops of the United States, offers aid in Greece and across Eastern Europe, the Middle East, and Africa, and runs disaster preparedness and response programs in the US. IOCC programs aim to help people improve their lives, strengthen communities, and cultivate resilience amid hardship.
Donors who wish to contribute to this campaign, doubling their donation for Greece, may do so online by visiting iocc.org/greecematch21 before June 20, 2021.
###
International Orthodox Christian Charities (IOCC) is the humanitarian relief and development agency of the Assembly of Canonical Bishops of the United States of America. Since its inception in 1992, IOCC has provided more than $742 million in humanitarian relief and sustainable development programs in over 60 countries worldwide. Today, IOCC applies its expertise in humanitarian response to natural and manmade crises in Africa, Europe, the Middle East, and the United States, offering assistance based solely on need. Learn more at iocc.org and follow us @IOCCRelief on Twitter, Instagram, and Facebook.