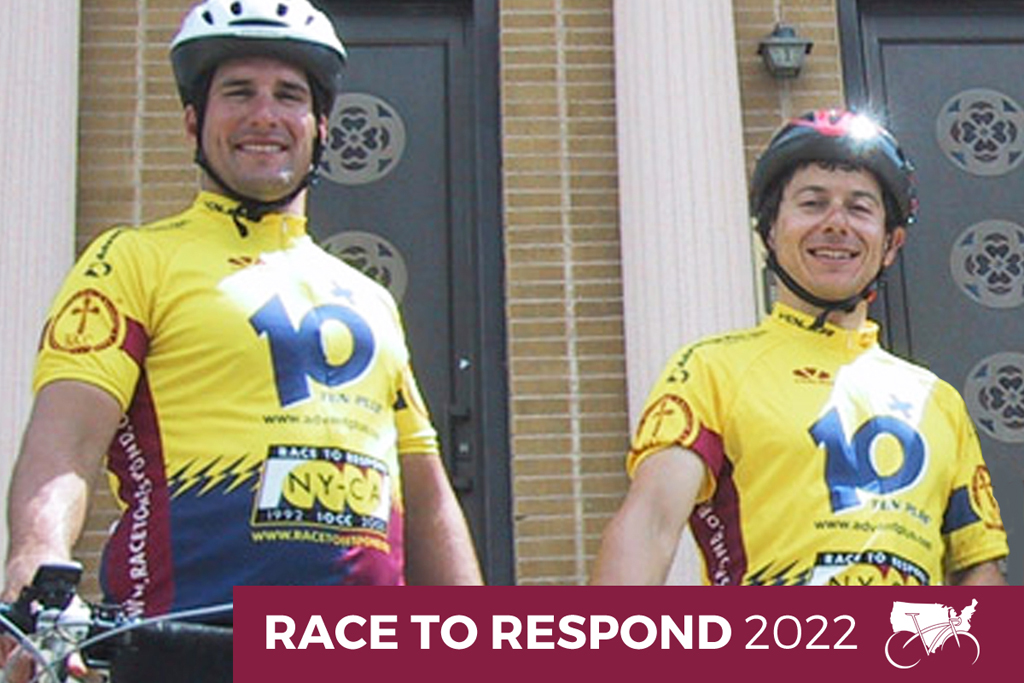 Cycling Team Biking Cross-Country for IOCC's 30th Year
Third "Race to Respond" Raises Funds, Awareness for Orthodox Humanitarian Organization
Baltimore, Md. (September 9, 2022) — In a cross-country test of endurance, volunteers are cycling across the US this month to support the humanitarian mission of International Orthodox Christian Charities (IOCC) in "Race to Respond," now an IOCC tradition marking each decade of the agency's service.
In this coast-to-coast bicycle tour, Constantine "Dino" Davlantis from Oak Lawn, Illinois and Konstantin Kanelis from Munich, Germany, are riding from California to Georgia during September. They are carrying on a tradition that began in 2002, IOCC's 10th year providing humanitarian and development aid, when supporter Jim Angelus organized the first ride. Race to Respond continued in IOCC's 20th anniversary year, with several original team members setting out again. This year, to celebrate 30 years of service, the endurance race for a cause is back.
Both Davlantis and Kanelis have participated in all three Race to Respond events.
"Dino Davlantis and I are carrying on the Race to Respond tradition to raise money for IOCC," said Kanelis, who has done cycling tours in the Alps. "You are invited to follow us," he added.
Beginning in San Diego on September 8, their race plots a southern route crossing California, Arizona, New Mexico, Texas, Arkansas, Mississippi, Alabama, and finally Georgia. The course ends in Savannah, Georgia, on September 26.
The IOCC benefit is not a race in the traditional sense but a long-distance test of endurance. Davlantis and Kanelis have set a goal of raising $30,000 through their efforts for IOCC's 30th year. Funds will support IOCC's worldwide programs in emergency preparedness and response; water, sanitation, and hygiene; sustainable livelihoods; food security and agriculture; and health.
Updates on the pair's progress will be posted at iocc.org/r2r, where supporters can also donate toward the fundraising goal Davlantis and Kanelis have set for their epic cross-country ride.
###
International Orthodox Christian Charities (IOCC) is the humanitarian relief and development agency of the Assembly of Canonical Bishops of the United States of America. Since its inception in 1992, IOCC has provided more than $771 million in humanitarian relief and sustainable development programs in over 60 countries worldwide. Today, IOCC applies its expertise in humanitarian response to natural and human-caused crises in Africa, Europe, the Middle East, and the United States, offering assistance based solely on need. Learn more at iocc.org and follow us @IOCCRelief on Twitter, Instagram, and Facebook.