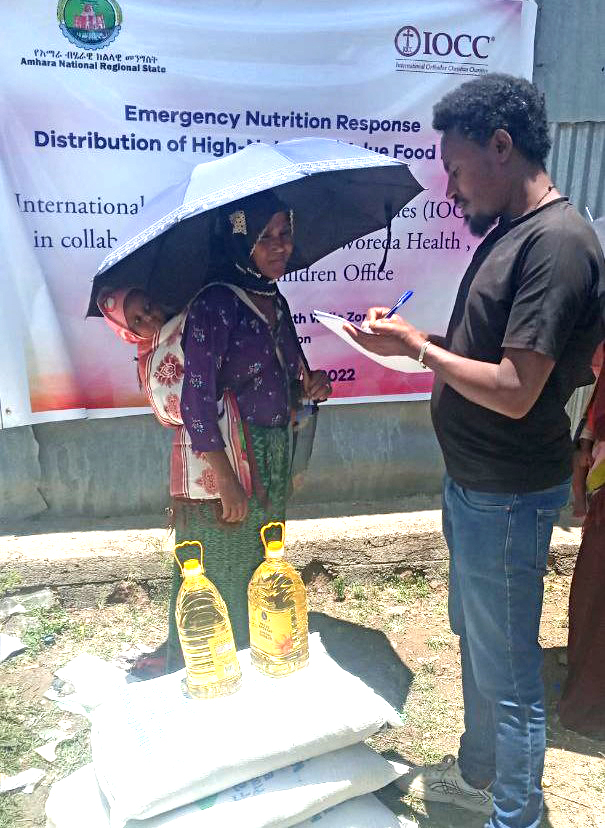 Ethiopia is experiencing one of its most severe droughts in recent decades following four consecutive failed rainy seasons. This is compounded by the impacts of conflict in northern Ethiopia, desert locust infestations of 2019 and 2020, and the COVID-19 pandemic. Crops have failed, large-scale livestock deaths have occurred, and people have been forced to leave their homes in search of livelihoods and assistance.
In response, IOCC launched a three-month emergency food project in eight communities to combat food insecurity. In addition to providing emergency supplemental food for young children and pregnant and lactating women, the initiative trained health extension workers on screening for moderate acute malnutrition, as well as on food distribution and preparation.
IOCC also provided cash assistance to hundreds of people affected by desert locust invasions—giving them the flexibility to purchase what they need, when they need it. The program assisted the most vulnerable, taking care to reach women-headed households, people with disabilities, and the elderly, who all faced poor social, economic, cultural, and health conditions even before the locusts arrived.
This assistance is helping people secure supplies for their next planting, as well as the food they need right now. Because Ethiopia is prone to recurrent drought and seasonal floods, food security remains a pressing issue, and IOCC continues working with communities as they seek a sustainable way forward.