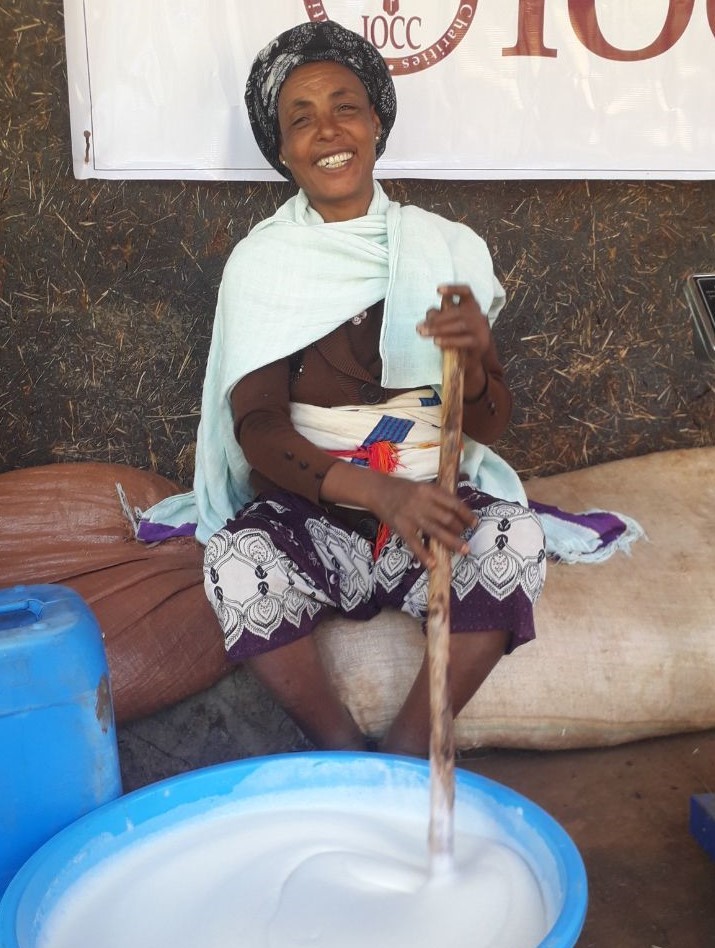 In a remote part of Ethiopia, over 200 miles from the capital of Addis Ababa, IOCC is helping people regain their health, create incomes, and improve community health, too.
Anchinesh, 46, lives in northern Ethiopia's West Gojjam Zone. A married mother of nine children, she and her family farm a small plot of land for their living, but that income doesn't cover their basic needs.
Through an IOCC program, Anchinesh is one of two dozen women who have received business training and started a co-op producing and selling liquid soap. IOCC helped cover startup costs and training for members.
Soap is crucial for preventing and treating podoconiosis (podo), caused over time by walking barefoot on certain soils—resulting in extreme, debilitating swelling in the feet and legs. Since 2010, IOCC has been the only agency educating communities about podo's causes, prevention, and treatment in the Amhara region of northern Ethiopia, where nearly half a million people are afflicted by podo.
In fact, Anchinesh knew IOCC because she'd been a podo patient at an IOCC-supported clinic in her area. "I received treatment [there,]" she said. "Now I can wear normal-size shoes and do any activity like anyone else."
The soap-making co-op is Anchinesh's next step in building a better future for herself and her family. Having locally made soap readily available at a reasonable price also means that communities where podo is common can more easily prevent and treat it. And with their new microbusiness know-how and their in-demand product, Anchinesh and her peers are filling an important gap—while also increasing their own earning power.