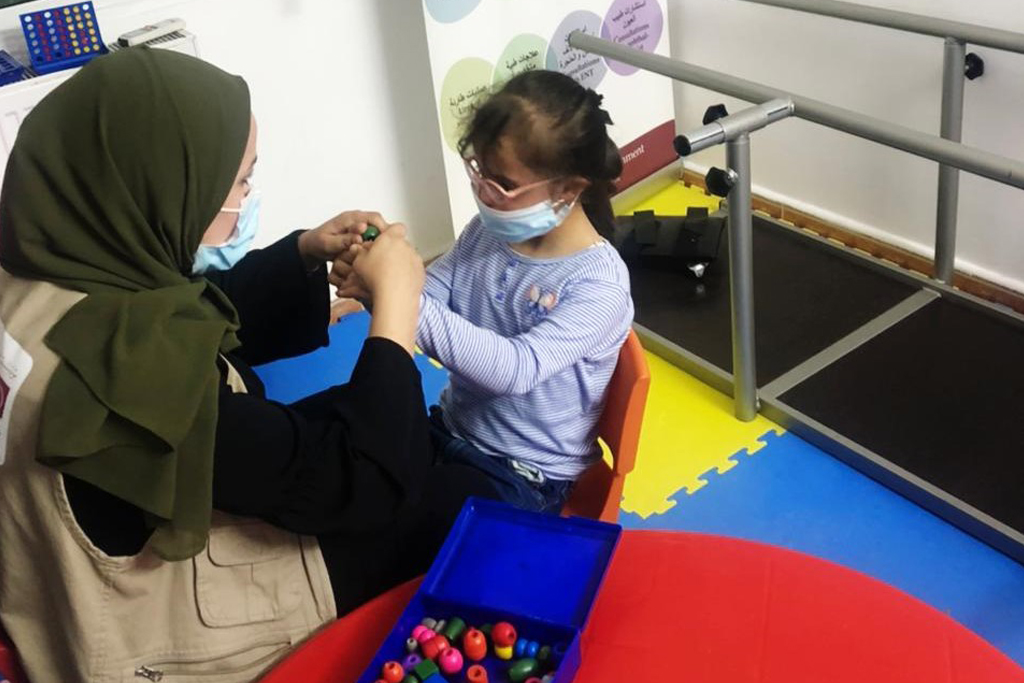 Leila is seven. Her family fled Syria seeking a safe place to live, and Leila was born after they'd arrived in Irbid, Jordan. Diagnosed with Down's syndrome at birth, she also developed cerebral palsy and has a heart defect.
Leila's mother, Bahyah, shared that the little girl did well until age 2, when her condition started to deteriorate. Through community outreach, Bahyah learned about an IOCC program (funded by a grant from the US Department of State) serving refugees and Jordanians in need with disabilities. Leila was enrolled in services at a local clinic run by IOCC partner Institute for Family Health.
Occupational therapy was the first step, then special education. Leila received coordinated sessions to improve her perceptual and cognitive abilities while also working on motor and social skills. Her progress was slow at first, and this led both specialists to notice that the way Leila moved and touched things suggested a possible visual impairment. Testing by an ophthalmologist confirmed this: Leila had a severe visual impairment and would need eye surgery. In the meantime, Leila received glasses through the IOCC program.
The difference in Leila was immediate and astonishing—to both the specialists and her mother. "I was surprised by the change in her behavior after wearing the eyeglasses," Bahyah said. "She stopped crying all the time, became more social, and started playing with other kids. I also never imagined that she would be able to walk freely without needing me to carry her in a stroller."
Leila's rapid progress in such a short time is inspiring. And it's just one example of the impactful programming IOCC offers around the world. While Leila's journey is far from over, she and her family have much reason to hope.