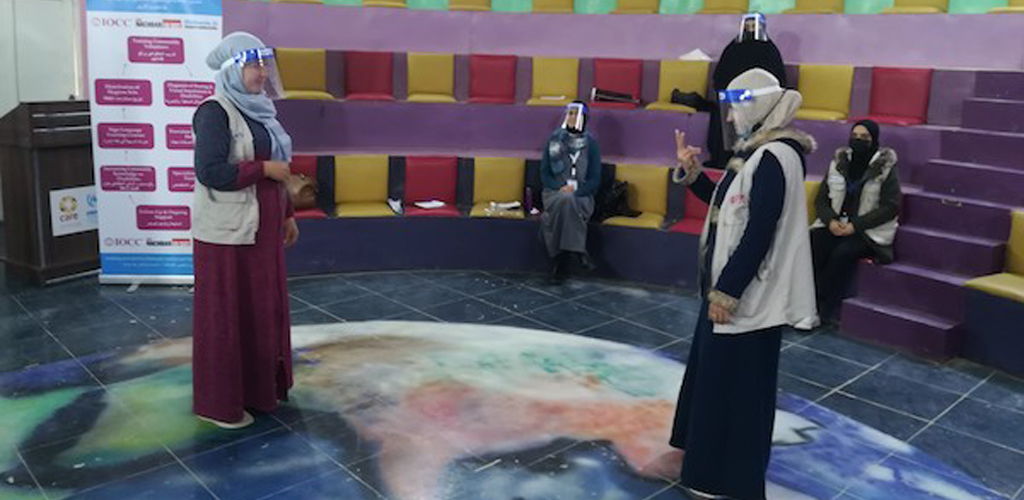 "I need to communicate better with my children, especially my older daughter, who is totally deaf," said Zahra, a Syrian mother of two.
Zahra attended a recent IOCC sign language training for residents of Azraq refugee camp in Jordan, organized in coordination with the UN refugee agency (UNHCR) and supported by funds from Diakonie Act Austria. "By finishing this course as a mother," Zahra said, "I will have the ability to communicate with [my daughter], and I'll be able to follow up with her daily and increase her knowledge in sign language."
The workshop introduced basics of Jordanian Arabic Sign Language, establishing a foundation for effective communication with people with hearing impairments. As part of IOCC's ongoing work serving people with disabilities in both Azraq and elsewhere in Jordan, the training included not only parents like Zahra, but also a speech therapist from IOCC's local partner in Jordan, Institute for Family Health (IFH), and a Mercy Corps volunteer.
"I am very happy with the sign language course," said IFH speech therapist Sufana. "It is helpful to me since I deal with many cases with hearing loss, so the sign language will be part of my work." Mercy Corps volunteer Mariam agreed. "I am a shadow teacher, so I will benefit from the sign language course when communicating with children with hearing impairments."
Overall, the course is strengthening specialized communication skills among people who live with, care for, and work with people who have hearing impairments.