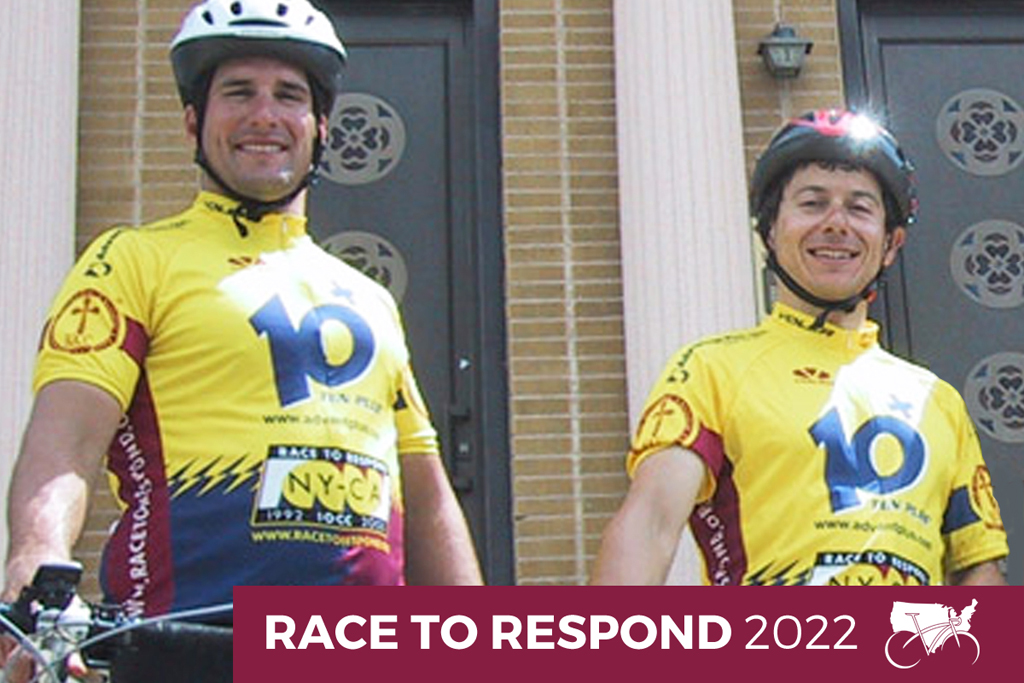 In 2002, IOCC supporter Jim Angelus organized the first coast-to-coast bike ride, called Race to Respond, for IOCC's 10th anniversary. Then in 2012, Jim and another team biked a second route for IOCC's 20th anniversary. Now Konstantin Kanelis and Dino Davlantis are taking the lead to celebrate IOCC's 30th year of service. You are invited to follow them from September 8th to 26th from San Diego to Savannah. We'll share updates from the road, and you can donate toward their goal of raising $30,000 for IOCC's 30th year of service. Thank you again!
---
Congratulations Konstantin and Dino!
CONGRATULATIONS to IOCC's Race to Respond cyclists, who ended their amazing cross-country ride in Savannah, GA, last night. THANK YOU, Dino and Konstantin, for your dedication to IOCC's mission of service, and for supporting humanitarian work with this coast-to-coast feat of endurance. The pair started with their wheels in the Pacific Ocean near San Diego and ended with their bikes in the Atlantic on Tybee Island, outside Savannah.
September 27, 2022
On their last day, the team started in Dublin, Georgia and ended outside of Savannah. They road more than 143 miles to the lighthouse on Tybee Island, where they carried their bikes to the beach and touched the Atlantic Ocean.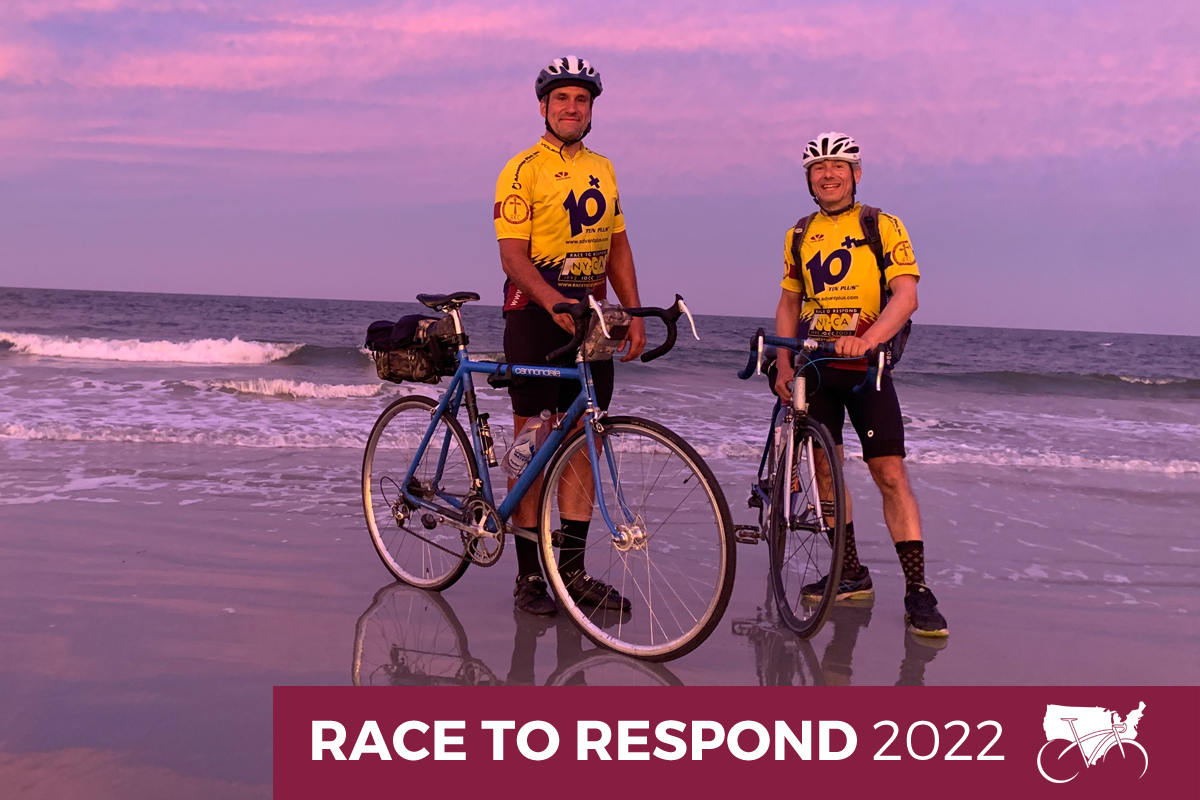 ---
September 26, 2022
The team left Columbus, Georgia today on Route 27, riding mainly on Routes 96 and 80 and arrived after 134 miles in Dublin, Georgia.
---
September 25, 2022
The riders started in Selma, Alabama, crossing over the whitewater rapids of the Chattahoochee River into Columbus, Georgia. Today's ride was 141 miles of large rolling hills, mostly on Route 80.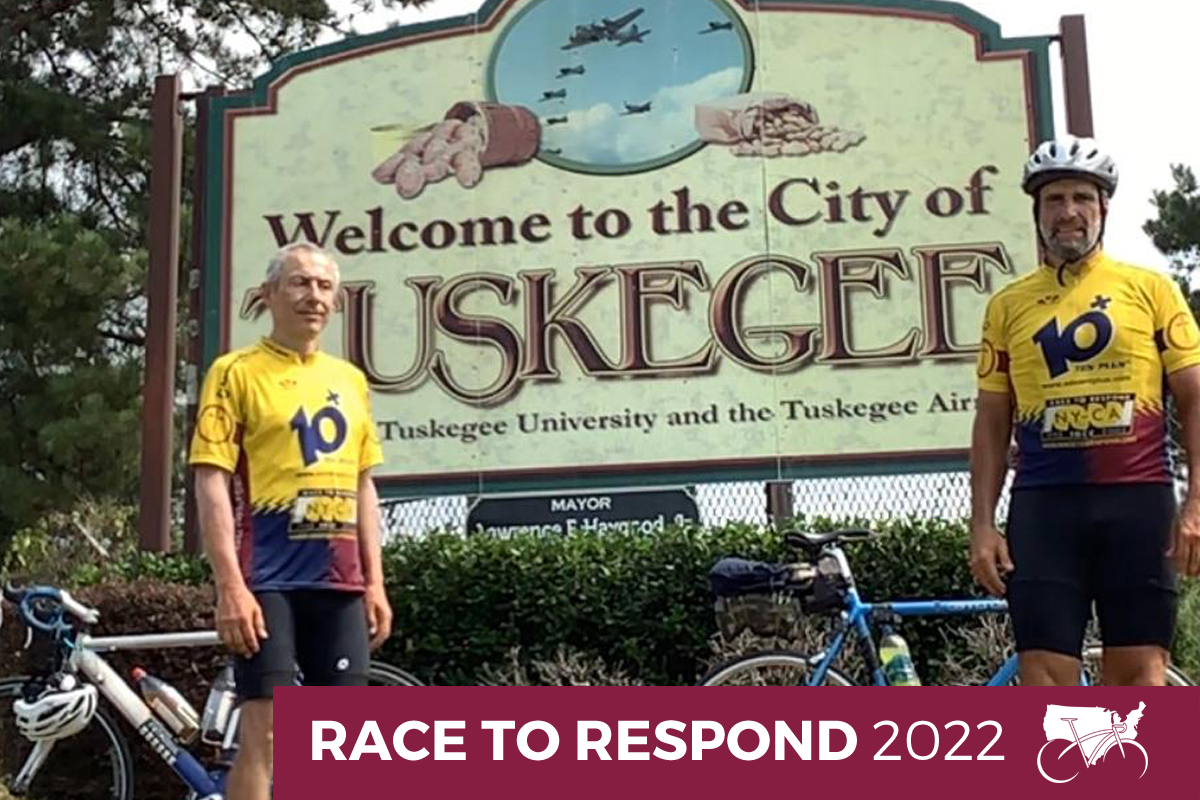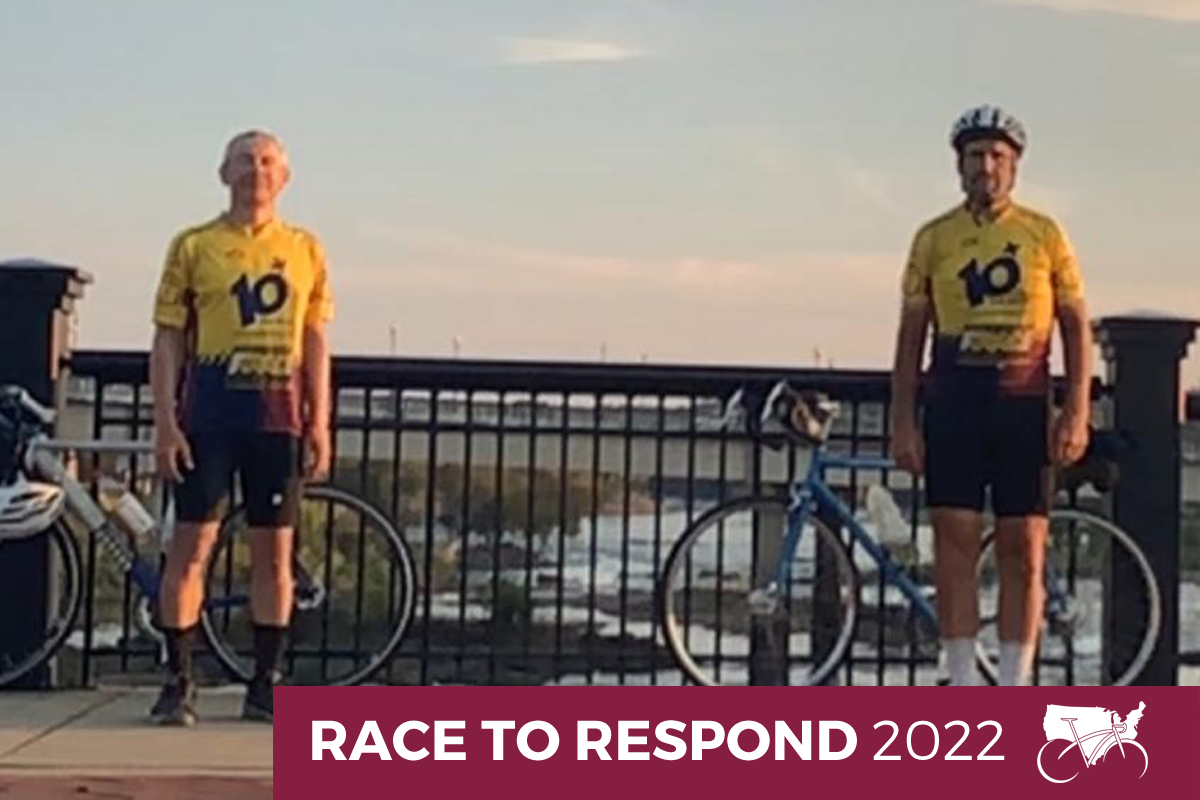 ---
September 24, 2022
Today the riders completed a ride of 147 miles from Starkville, Mississippi to Selma, Alabama. Roll Tide!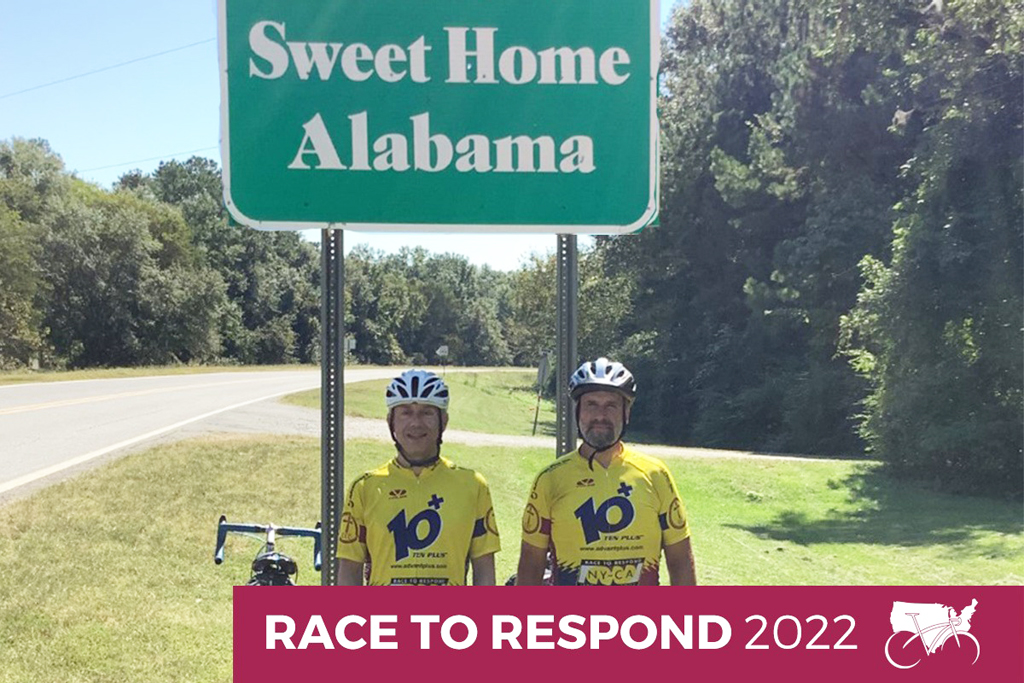 ---
September 23, 2022
The team faced strong headwinds today, moving from Greenville, Mississippi to Starkville, Mississippi and completing 140 miles.
---
September 22, 2022
The team hit a detour on Route 82, completing 167 miles from Magnolia, Arkansas to Greenville, Mississippi. They crossed the Mississippi river after sunset, after battling 100 degree temperatures for most of the day with some occasional shade from trees.
---
September 21, 2022
The ride today was dry and hot. The trip from Paris, Texas to Magnolia, Arkansas went smoothly and the team was able to bike 150 miles. It took 4 days to cross Texas!
---
September 20, 2022
The team started off in Bowie, Texas, today and ended their ride in Paris via Route 82. Temperatures for nearly the entire 150 miles were close to 100 degrees.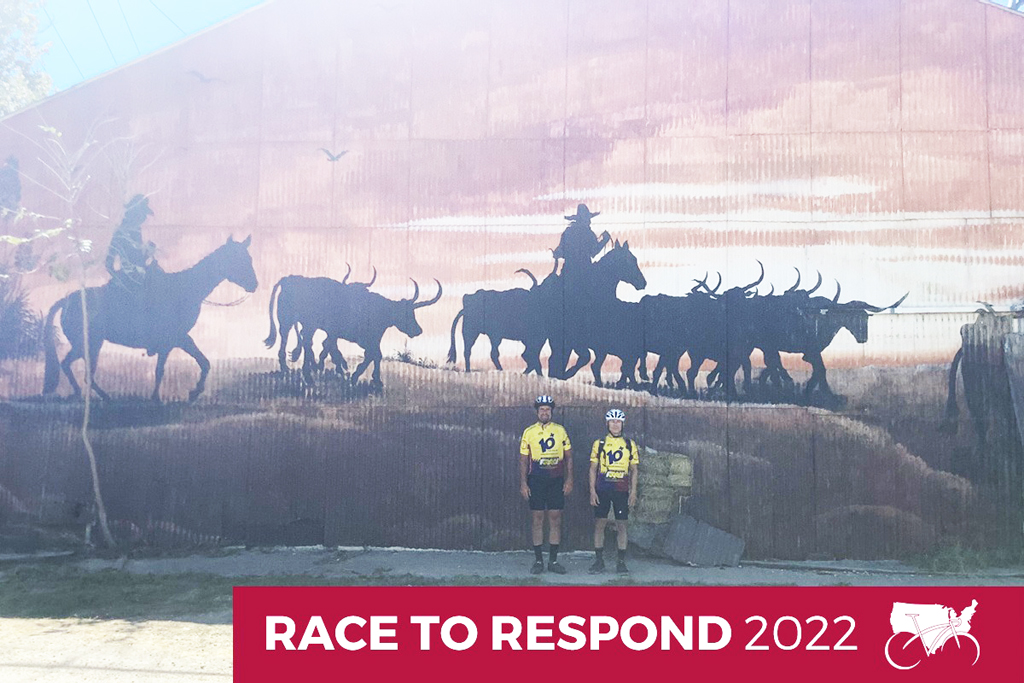 ---
September 19, 2022
Routes 380, 79, and 25 felt more like bike lanes during the day, with very few cars to compete with. The ride was an impressive tour of wind turbine farms. After completing 160 miles with high temperatures and sustained headwinds, the riders arrived in Bowie, Texas.
---
September 18, 2022
The riders faced strong head winds on their first day in Texas along Route 380. They left Brownfield, made a stop in Post, and then rode the remaining 85 miles in hot weather. They arrived in Aspermont, having traveled a total of 130 miles.
---
September 17, 2022
After stops in Roswell and Tatum, the team left New Mexico in the darkness and entered Texas. The shift in time zones meant losing an hour of sleep overnight.
---
September 16, 2022
Riding through New Mexico today was dry, and the steep climbs along Highway 380, along with strong winds, slowed the team's riding speed down. They cut the ride a bit short due to the difficult conditions and made it to Capitan, home of Smokey the Bear.
---
September 15, 2022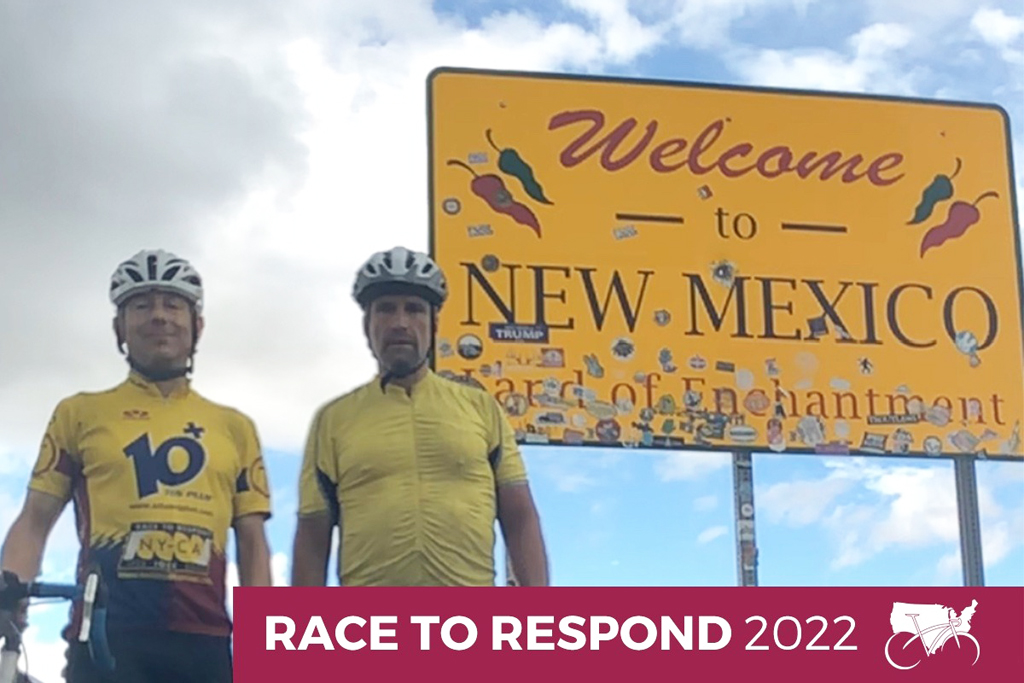 The team made their way through New Mexico on Route 60, which was mostly above 7,000 ft. They crossed the colorful Cibola National Forest and the Continental Divide, saw the Very Large Array in the San Agustin Plains, went through Magdalena and arrived in Socorro, a small mining town.
---
September 14, 2022
After a short break in Springerville AZ, the riders made their way towards New Mexico and arrived in the city of Quemado. Temperatures dropped to 55F when they reached an elevation of 7000 feet, and the evening temperatures were predicted to go into the 40s.
---
September 13, 2022
"Behind a summit there is always a higher summit" was the theme for the day! After many long and steep climbs through a beautiful mountain landscape, the team arrived in Show Low at about 6350 feet or 1940 m.
---
September 12, 2022
The team started in Sky Harbor (Phoenix, Arizona) at about 1000 feet, climbing to a summit called "Top of the World" at 4500 feet, and then downhill to Globe, a copper mining town. The narrow shoulders of Route 60, darkness, and intense lightning through the mountains made it a challenging night ride.
---
September 11, 2022
After a long ride through high temperatures and a thunderstorm, the team arrived safe in Phoenix, Arizona.
---
September 10, 2022
The team had nice weather today and comfortable road conditions, making their way from Brawley to Quartzsite.
---
September 9, 2022
Friday started with strong rain and wind. The ride went smoothly until the Anza Borego Desert, where the road conditions became dangerous with flooding. Police controlled the flow of traffic and after a three delay, they continued on to Brawley.
---
September 8, 2022
The team set out in California this morning from Miramar towards Ramona with some unexpected route changes. Following the recommendation of the local sheriff, they had to avoid route 67, a windy road without a shoulder that would be dangerous for bikes. The alternative road route was a mostly unpaved trail, so they stopped short of Brawley and stayed the night in Julian. See a video of their new route below.

---
September 7, 2022
The team arrived in San Diego and touched the Pacific Ocean with their bikes before setting off. They rode north-west towards Miramar and will continue tomorrow through higher temperatures towards Brawley, CA. More updates from the road soon!