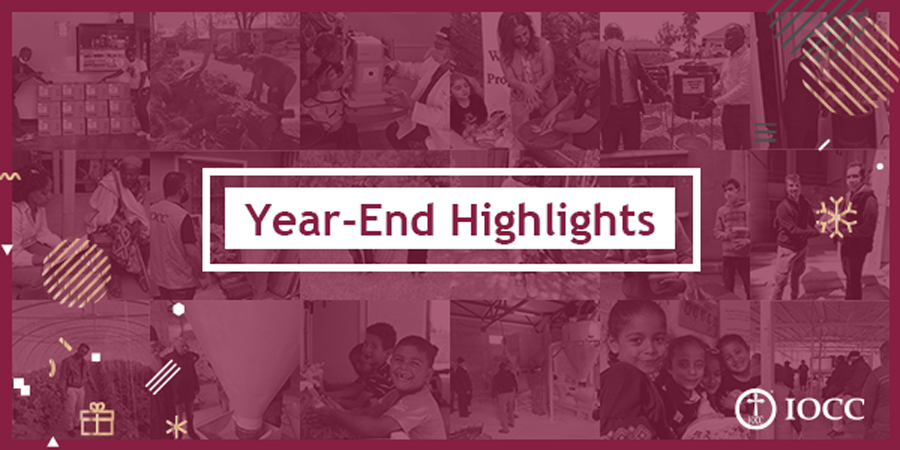 As 2021 draws to a close, we wanted to take a moment to thank you for everything you've helped accomplish through IOCC. Below are just a few of the projects that are made possible through your generous support, spreading Christ's love by caring for people in need around the world:
IOCC Foundation funding provided a greenhouse, seedlings, fertilizers, and technical assistance and expertise, as well as embroidery and knitting material for occupational therapy, for more than 180 residents of a care home for girls and young women with disabilities in Bosnia and Herzegovina.
An ongoing partnership with the World Health Organization reached hundreds in Georgia with COVID-19 prevention training, including essential workers and leaders of various faith communities.
Equipment and training to 8 agricultural associations in Greece helped 164 farming families, while similar support for 20 microbusinesses helped over 85 families improve their incomes and quality of life.
In Gaza, 270 young adults completed vocational training at three community centers, preparing them for in-demand careers and improving their chances of earning sustainable incomes.
In Syria, IOCC provided psychosocial support to more than 17,375 people in need and their families to improve emotional well-being, equip them with positive coping strategies to protect and care for themselves and their families, and to enhance their resilience amid crisis.
In Montenegro, IOCC support is expanding a Church agricultural facility that in turn provides produce and income for an Orthodox Church humanitarian kitchen that serves over 450 cooked meals per day to people in great need.
More than 23,800 families of children enrolled in public schools throughout Lebanon received family food rations through school-feeding programs amid economic crisis and the pandemic.
Quilts, school kits, and hygiene kits reached over 9,000 people in Serbia, including migrants and refugees from the Middle East and COVID-19 patients.
All this is just a sample of what you've made possible this year. The work continues, and with a $10,000 match thanks to Frank and Anastasia Catrickes running now through midnight 12/31 ONLY, your support will have even more impact. Don't miss this chance to continue sharing Christ's love around the world as we look ahead to 2022.