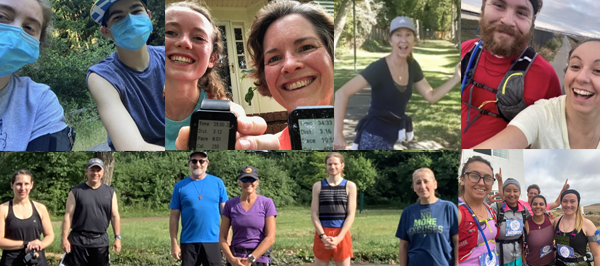 On June 27, 2020, IOCC hosted our first ever nationwide online event—a Virtual 5K—and the effort met with overwhelming success!
While COVID-19 continues limiting opportunities for IOCC supporters to gather in person at fundraising events large or small, the need for funds to keep the work going hasn't lessened. So to offer a way for friends of IOCC to come together, but safely and separately, around the cause, IOCC organized a nationwide virtual race—the first event of its kind in IOCC's long history of volunteer-led fundraising.
What's a virtual race? It's an event where participants are all running, walking, swimming, biking—or moving any way they choose—on their own, but on the same day. Groups that have quarantined together formed teams to do their 5K, and both individual participants and teams raised money through their networks to support IOCC's global humanitarian work.
A total of 159 people joined the Virtual 5K, either as individuals or part of 15 teams. Check out their team and individual fundraising pages at iocc.org/5K.
Together, this virtual TEAM IOCC raised over $27,500, surpassing the event's goal of $20,000. Special thanks go to top fundraisers Rev. Fr. George Lamberis, Rev. Dr. David Smith, Mr. George Giolas, and IOCC's Board Chair, Mr. Mark Stavropoulos.
In a challenging time, this initiative's success reflects the dedication of IOCC supporters to helping others, ask Christ asks His followers to do. Thank you!