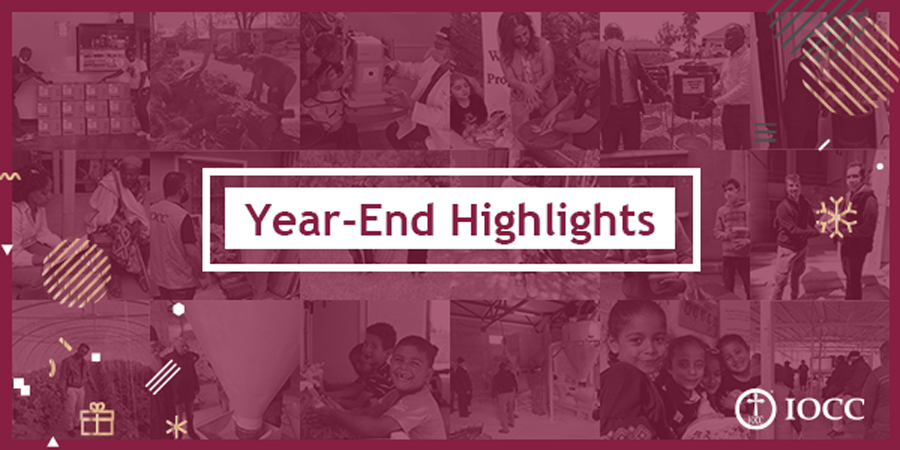 Thanks to generous donors like you, IOCC has spread Christ's love and helped people around the world in 2021. As we approach the end of the year, we'd like to share just a few ways you've reached people in need:
After the Beirut explosion, IOCC reached more than 153,000 people with emergency and longer-term aid. IOCC supported the rehabilitation of St. George University Hospital and repaired more than 545 homes and apartments, more than 125 small businesses, two hospitals, seven primary health centers, five schools, one Sunday School, and its educational facilities.
In Armenia, people in need, including families displaced by conflict, received 20,000 hygiene kits, 1,500 school kits, and 820 blankets.
More than 80 high-school students in Bulgaria attended workshops addressing issues such as low self-esteem, negative emotions, substance abuse and addiction, and eating disorders, equipping them to shape brighter futures.
In Ethiopia, over 13,350 people with podoconiosis and lymphatic filariasis received treatment, and over 53,000 people were trained in podo awareness and prevention.
In Greece, 350 families with young children and limited income received prepaid grocery cards to purchase fresh food each month. Over 1,000 families received monthly dry-food parcels, and an IOCC-supported soup kitchen served about 1,300 weekly meals to people experiencing homelessness in Athens' city center.
Over 4,000 preschool-age children in 12 Gaza kindergartens and their communities received health and nutrition screening, referral, and treatment, while more than 3,600 parents attended 230+ sessions on health, nutrition, and hygiene.
In Romania, 15 Church foster care homes and 15 families in need received new cooking stoves to improve their quality of life.
US emergency response — muck outs, debris removal, and in-kind distribution — took place in Louisiana, Tennessee, and Texas, while 16 Frontliners provided emotional and spiritual care through 60 Care Calls to parish priests throughout Texas following severe winter storms.
IOCC not only wants to continue this valuable work, but to build and expand on the strong foundation that you've helped to create. Help us end 2021 strong with a gift today. Through 12/31, all gifts are being MATCHED, up to $10,000, thanks to a generous gift from donors Frank and Anastasia Catrickes.
We are eternally grateful for all your support, and can't wait to show you what's to come over the next year.