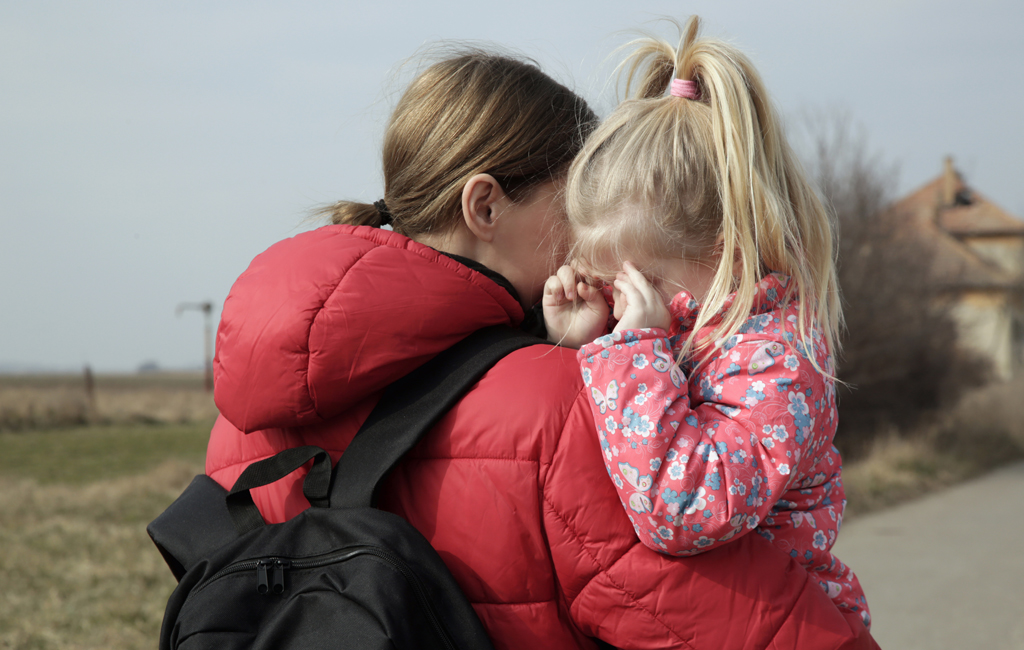 IOCC and Greek Orthodox Archdiocese of America, Philoptochos Partner in Program Serving Displaced Ukrainians
Funding from Archdiocese, Philoptochos to Advance Ukrainians' Self-Sufficiency amid Conflict and Displacement
Baltimore, Md. (June 12, 2023) – International Orthodox Christian Charities (IOCC), the Greek Orthodox Archdiocese of America, and the Greek Orthodox Ladies Philoptochos Society are partnering to meet the practical needs of displaced Ukrainians living amid conflict by repairing shelters and homes for people with disabilities and providing vocational training and practical items that will ease acclimation to life in displacement.
On the ground in Ukraine, IOCC and its local partner Eleos are repairing shelters for displaced people, updating accommodations for people with special needs, and helping hundreds of displaced women gain vocational and business skills.
People who are displaced have had to leave behind their preexisting resources. A first stop for many fleeing conflict is a shelter where they can start piecing their lives together again. Similarly, those with special needs have also been forced from their communities. Displaced people with physical, intellectual, or other disabilities now need another supportive living environment in order to thrive.
As new waves of people are arriving in safer areas of Ukraine, IOCC and Eleos are repairing shelters, retrofitting group homes for people with disabilities, and supplying items like heating equipment, small appliances, and hygiene products that help people settle into their new community. In addition, the program is creating job-seeking, skill-building, and networking opportunities for displaced women. Strengthening displaced Ukrainian women's economic independence helps them care for their children and families, providing stability while they plan their future amid uncertainty.
The need for programs like this one is clear amid continued conflict in Ukraine. Humanitarian responses are shifting into a new phase that focuses on growing self-sufficiency for displaced people and families.
"As a Hierarch of the Ecumenical Patriarchate, I am sorrowed by the heartache and human needs created by the conflict in Ukraine that continue to afflict those that have been displaced," said His Eminence Archbishop Elpidophoros of America. "This valuable program lifts up people who are facing entirely new living circumstances amid tragedy and loss, as they forge their new lives in new places. We pray that this support will help every person it reaches to shape a future full of hope."
"In a time where many have lost everything, it is humbling to do what we can to support this important program that will build a future for the affected families," said National Philoptochos President Arlene Siavelis Kehl. "As an organization run by strong women, Philoptochos carries a unique empathy toward the situation of Ukrainian women. It's particularly meaningful to support women as they find ways to provide for their families amid displacement. The Executive and National Boards are pleased to support IOCC once again."
IOCC has been responding to conflict in Ukraine since March 2022, with funding from multiple Church, national, international, and ecumenical partners, as well as from individual donors. Response stretches across the region, and IOCC has served thousands in Georgia, Greece, Moldova, Poland, and Romania, as well as in Ukraine itself. Aid is tailored to each local context, addressing basics like food and shelter; supporting local churches, host families, and others serving refugees; and meeting longer-term needs, as this program does.
To support IOCC's Ukraine response with a financial gift, visit iocc.org/donate.
###
International Orthodox Christian Charities (IOCC) is the humanitarian relief and development agency of the Assembly of Canonical Bishops of the United States of America. Since its inception in 1992, IOCC has provided more than $800 million in humanitarian relief and sustainable development programs in over 60 countries worldwide. Today, IOCC applies its expertise in humanitarian response to natural and human-caused crises in Africa, Europe, the Middle East, and the United States, offering assistance based solely on need. Learn more at iocc.org and follow us @IOCCRelief on Twitter, Instagram, and Facebook.