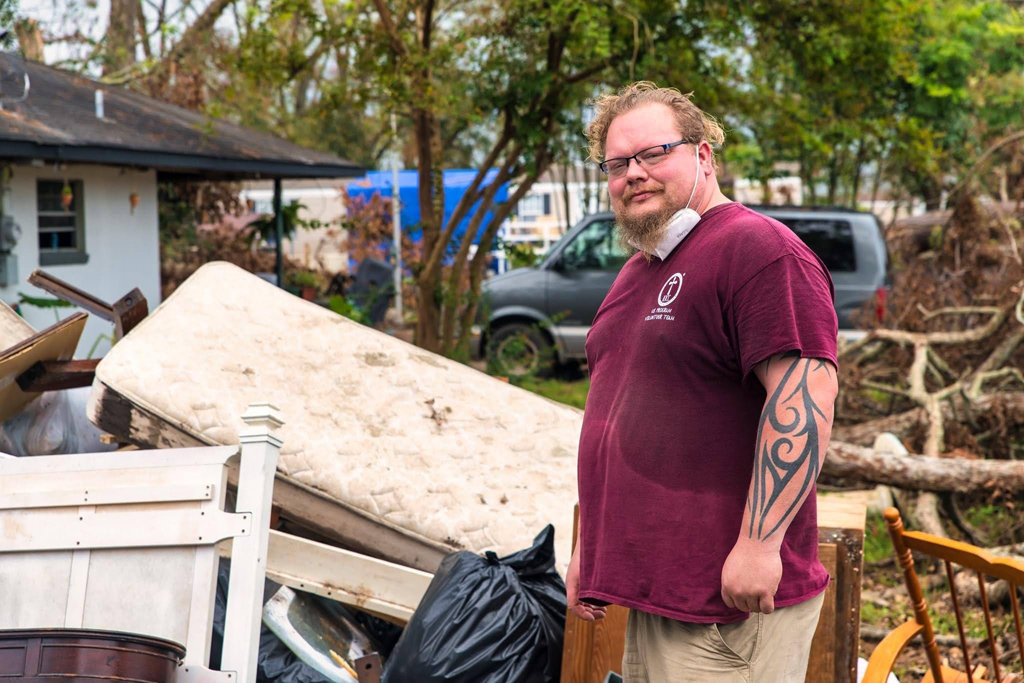 IOCC Reaches One-Year Milestone in Hurricane Ida Response
Ongoing US Program Helps Louisiana Communities Clean Up, Rebuild after Devastation
Baltimore, Md. (September 15, 2022) – Throughout the year since Hurricane Ida hit the Louisiana coast, International Orthodox Christian Charities (IOCC) has had teams on the ground in St. Charles Parish. From initial cleanup and emotional and spiritual care, and from muck-and-gut work to rebuilding homes, IOCC has provided disaster response to those affected by the destructive storm consistently for one year.
Hurricane Ida struck Louisiana on August 29, 2021, as a category 4 storm, with winds up to 150 mph—tied with Hurricane Laura (2020) and the Last Island Hurricane (1856) as the strongest storm ever to hit Louisiana, and second-most damaging after Hurricane Katrina (2005). After the floodwaters subsided and it was safe to enter, IOCC's first team was on the ground in hard-hit St. Charles Parish by September 9. The initial teams completed muck outs (removing waterlogged household items, flooring, insulation, walls, etc.) and cleared downed trees and other debris.
Since then, IOCC staff and volunteers have remained in action, with teams rotating through as work shifted from emergency cleanup to longer-term help, including rebuilding.
To date, IOCC, in partnership with NECHAMA Jewish Response to Disaster, has mucked out 73 homes and finished one home rebuild, with another build ongoing and more scheduled. The rebuilt home was one that earlier IOCC teams had mucked out—a first that highlights the continuous work of IOCC's US Program and dedicated partners and volunteers.
"I showed up thinking I would be here for two weeks to a month, tops," said IOCC Site Supervisor Dan Hoeft. "Things started to slowly get worse here in St. Charles Parish. The need for assistance was so high. I couldn't finish a home without getting two more to work on."
"I have truly become aware of how welcoming the people are here," Hoeft continued. "From homemade gumbo being served to us to people honking at us saying hello when we are working—it's really made all of us feel special. It's been an honor to serve this community for such an extended time."
IOCC's disaster preparedness and response programming in the US relies on teams of volunteers from across the country. Long-time partner AmeriCorps has deployed multiple volunteer teams to support IOCC's Hurricane Ida response, helping maintain the momentum. Some volunteers have returned for multiple deployments in the last year.
"Being born and raised in northeast Ohio, I had never been exposed to natural disasters such as Hurricane Ida," said returning volunteer Celina Sarko. "It was an incredibly humbling experience to step into St. Charles Parish…. The time I spent here gave me the sense of purpose and perspective I had been looking for."
"It's easy for this work to feel overwhelming at times," Sarko added, "but seeing the joy it brings to our homeowners makes everything more than worth it. There are so many people still suffering from this disaster almost a year later, and knowing that each day we are given the opportunity to provide comfort and aid to even one person is special."
Hoeft concurred. "We at IOCC will always have a special place in our hearts for St. Charles Parish," he said.
IOCC work continues providing vital assistance for the St. Charles Parish community. Supplementing productive partnerships with NECHAMA and AmeriCorps, financial support for this work has come through grants from the National Philoptochos Society and United Way, and through flights for staff and volunteers provided through Airlink.
"Hurricane Ida was a huge nonpublicized disaster," Hoeft said. "It will take this area years to recover from its damages." IOCC's work is ongoing.
Support IOCC's US disaster preparedness and response programming at iocc.org/usresponse. Find preparedness resources at iocc.org/getprepared.
###
International Orthodox Christian Charities (IOCC) is the humanitarian relief and development agency of the Assembly of Canonical Bishops of the United States of America. Since its inception in 1992, IOCC has provided more than $771 million in humanitarian relief and sustainable development programs in over 60 countries worldwide. Today, IOCC applies its expertise in humanitarian response to natural and human-caused crises in Africa, Europe, the Middle East, and the United States, offering assistance based solely on need. Learn more at iocc.org and follow us @IOCCRelief on Twitter, Instagram, and Facebook.