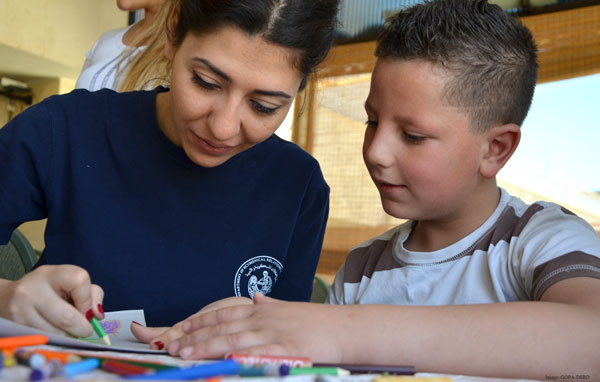 Eight-year-old Hassan* was not only spending a lot of time by himself, but he was having a hard time concentrating and following directions at the Dream Center his mother enrolled him in.
As a way to boost confidence and encourage him to participate in group activities, the center's psychologist came up with a plan tailored to Hassan's needs.
The center's staff spent time with Hassan, earning his trust. Activities like crafts and drawing have helped Hassan improve his concentration, while music and dance have grown his communication skills and comfort playing with others.
Not only has Hassan learned new coping skills thanks to the Dream Center, but Hassan's mother also has too. Through special sessions for caregivers, Hassan's mom was able to learn new techniques in caring for Hassan while meeting his particular needs.
"I'm so grateful for all the support my son received in the Dream Center; you're so sincere in supporting the children you receive at the center," said Hassan's mother.
Your gift today can support other people like Hassan, in Syria.
*Not his real name and not pictured