International Orthodox Christian Charities Brings Humanitarian Issues to Forefront on Capitol Hill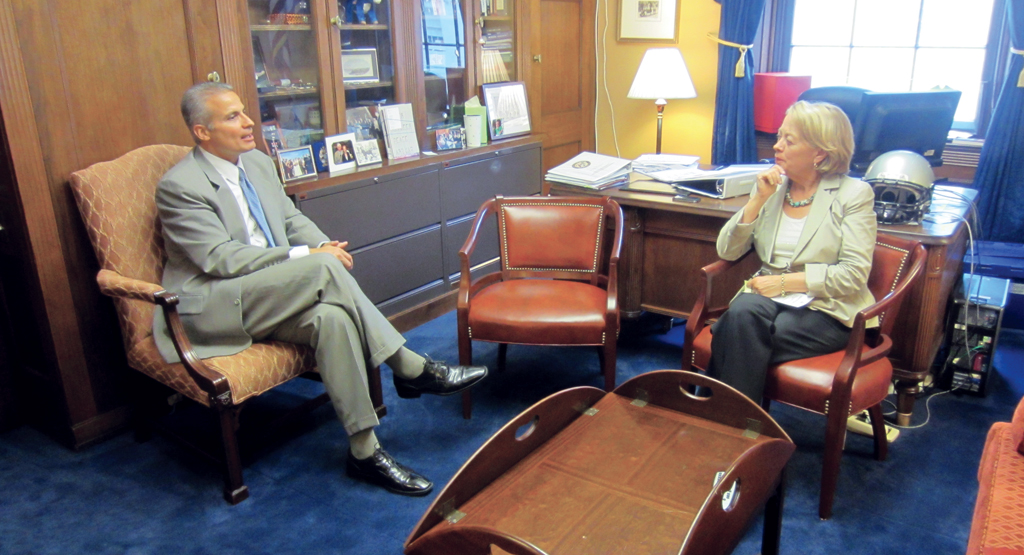 Baltimore, MD (October 15, 2013) — Citing its ongoing response to the escalating humanitarian needs of millions of people affected by the civil war in Syria and the economic crisis in Greece, International Orthodox Christian Charities (IOCC) representatives met with Orthodox members of Congress and their staffs recently to bring attention to the organization's rapidly expanding humanitarian and international development activities around the world.
IOCC Board of Directors member, John Sitilides, and IOCC Special Assistant, Pascalis Papouras, visited the offices of six Capitol Hill legislators and met with Rep. Gus Bilirakis (R-FL), Rep. John Sarbanes (D-MD), Rep. Dina Titus (D-NV), and Rep. Niki Tsongas (D-MA), and with senior staff members for Rep. Justin Amash (R-MI) and Rep. Darrell Issa (R-CA). The legislators and their staffs were briefed on IOCC's ongoing aid to families inside war-torn Syria, its expanding relief efforts to the growing number of impoverished families brought on by Greece's economic crisis, and ongoing IOCC projects in Lebanon, Jerusalem, West Bank, Gaza and Ethiopia.
"Meeting with our Congressional leaders afforded us an opportunity to continue to advance IOCC's mission as we bring to light the depth, substance and effectiveness of the lifesaving work IOCC is doing every day in the Middle East, Africa, the Holy Land and Europe," said IOCC Executive Director, Constantine M. Triantafilou. "IOCC greatly appreciates their warm reception and we look forward to continued cooperation to fulfill our humanitarian mission on behalf of millions of Orthodox Christians."
###
IOCC is the official humanitarian aid agency of the Assembly of Canonical Orthodox Bishops of the United States of America. Since its inception in 1992, IOCC has delivered $438 million in relief and development programs to families and communities in more than 50 countries. IOCC is a member of the ACT Alliance, a global coalition of more than 140 churches and agencies engaged in development, humanitarian assistance and advocacy.