New IOCC Program to Improve Food Access for Isolated Families in the Gaza Strip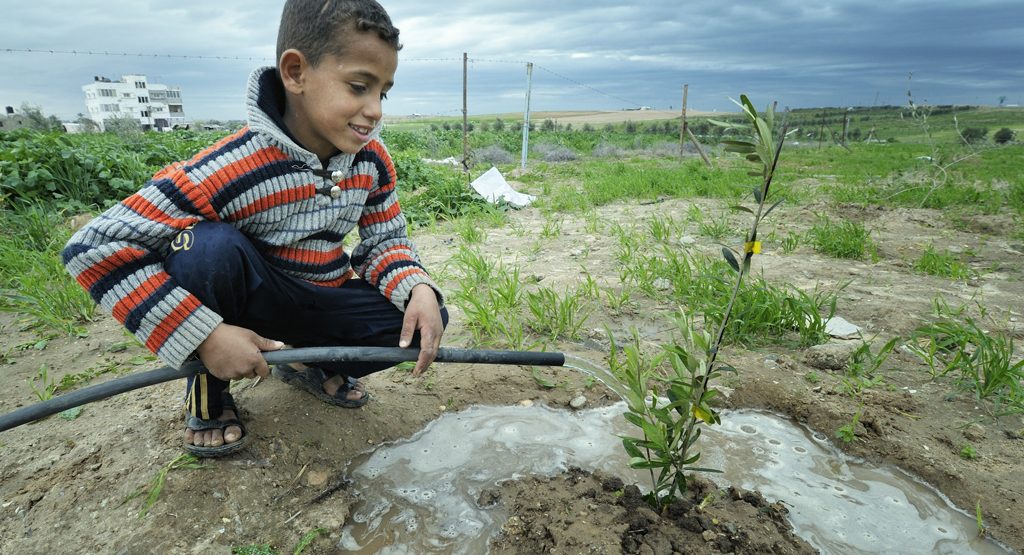 Baltimore, MD (August 8, 2011) — More than 10,000 children and their parents in the Gaza Strip will soon have better access to reliable food sources through a new program launched by International Orthodox Christian Charities (IOCC). IOCC was awarded $3.75 million to assist 1,400 selected households start and maintain family gardens, or to raise fish or small livestock such as chickens and rabbits. The award was made by United States Agency for International Development (USAID) through Mercy Corps as part of a larger initiative in the Gaza Strip.
Sam Dunlap, country representative for IOCC Jerusalem, says these activities build on IOCC's current activities in the Gaza Strip, in which IOCC is rehabilitating greenhouses, digging water catchments and providing water irrigation systems. "Ideally, this chain of activities will produce a surplus of food for the families' needs, and ultimately develop into extra sources of income that will allow them to flourish."
IOCC is concentrating its assistance on Palestinian families that continue to be isolated by a 2009 post-war blockade that severely limits the movement of people and goods outside the Gaza Strip. The resulting extensive problems in infrastructure, water and sanitation, livelihoods, education and health have seen little significant improvement since then. With unemployment in the Gaza Strip hovering at around 40%, approximately 80% of households are forced to rely on some form of food aid to feed their families.
Through the IOCC community assistance program, participants will receive practical training to help improve existing agricultural practices and increase the amount of food they need to produce to sustain their families. Members of participating households as well as other unemployed members of the community will also be given cash for work to carry out the farming activities necessary for the program, including digging catchments, installing irrigation systems, clearing agricultural land and readying it for use, and installing fencing around household gardens.
The greatest challenge to implementing this program in a timely manner will be in delivering necessary irrigation supplies, seeds, fertilizer and farm animals to the families. According to Dunlap, approval from the Israeli Ministry of Defense to allow the delivery of goods from the West Bank to the Gaza Strip can take up to six months. Another challenge is the issue of border crossing limitations. "Currently the Israeli Government has only one border crossing for goods entering the Gaza Strip that is fully operational," states Dunlap. "This impedes the movement of goods and materials into the Gaza Strip and results in delays that can directly impact the project activities." Unexpected military activity, demonstrations, and strikes can cause the closure of the crossing for weeks, most of the time without prior notice.
Despite the obstacles, IOCC will continue to work with its local partners assisting those in need. Since opening its Jerusalem office in 1997, IOCC has implemented a number of relief projects in the Gaza Strip, West Bank, and Jerusalem, emphasizing assistance in agriculture, health, and education.
###
Founded in 1992 as the official humanitarian aid agency of the Standing Conference of Canonical Orthodox Bishops in the Americas (SCOBA), IOCC has implemented relief and development programs in more than 40 countries around the world. IOCC is a member of the ACT Alliance, a global coalition of churches and agencies engaged in development, humanitarian assistance and advocacy.